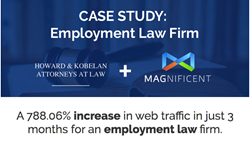 Austin, TX (PRWEB) September 07, 2016
Derek Howard, Logan Howard, and Thomas Kobelan have successfully represented hundreds of clients in all areas of employment law, consistently delivering sound legal advice and tailored solutions.
As experts in all facets of employment law, their attorneys can navigate a complex tangle of laws on behalf of their clients with goal-driven, forward-looking legal strategies. That same foresight also underpins their business model. According to a report in The National Law Review, 96% of people seeking legal advice use a search engine, and 74% of prospects who begin a search online end up contacting the office. In other words, Howard & Kobelan understood that getting eyes on their website from online sources would be crucial to continued future success.
The only problem? It's the law of the jungle on the Internet.
Thankfully, Magnificent Marketing specializes in content and search engine strategy that can crown clients as kings and queens of the jungle, establishing them as thought leaders, growing web traffic, and cultivating highly qualified leads – all at once. A few highlights: Howard & Kobelan saw a 778.06% increase in web traffic in three months, and even gained a greater share of more affluent clients.
This case study, available in its entirety on Magnificent.com, dives into Magnificent's services and techniques, along with a more detailed look at the results, and explains how the content marketing agency conceived and executed a successful marketing plan.
For the full details of the case study and how Magnificent Marketing's services proved successful for Howard & Kobelan, click here.
About Magnificent Marketing:
Magnificent Marketing is your full-service content marketing agency that will take care of all of your marketing needs so that you can concentrate on the core duties needed to manage and grow your business.
Their objective is to generate leads that turn into customers while focusing on expanding the visibility of your company and brand, and positioning you to be "top of mind" for future potential clients.
In order to achieve this, they draw on their experience and belief that a mixture of traditional marketing techniques combined with modern marketing tools will yield the best results. In other words, they blend old and new school marketing to create the best school of thought.