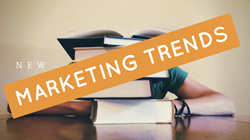 While all trends are not created equal and some crash and burn, certain trends have the ability to truly help marketers succeed.
Austin, TX (PRWEB) September 06, 2017
In today's fast-paced world, things are constantly changing, and within the world of marketing, tools and techniques are rapidly evolving, with new ideas and approaches emerging constantly. And while all trends are not created equal and some crash and burn, certain marketing trends have the ability to truly help marketers succeed.
Magnificent Marketing is excited to announce that it has teamed up with marketing expert, writer and podcast host Gini Dietrich of Arment Dietrich, Spin Sucks and Inside PR to present a new webinar on marketing trends and how to capitalize on them before the competition.
In the webinar, Dietrich discusses the following:
-How to stay current on industry trends
-The importance of influencers
-Social media platforms and how they can -- or can't -- be used for business
-Artificial intelligence and its likely impact
-How to determine which trends will stick
-Trends as they apply to the B2B world
-Recent trends
-And more!
The webinar is available on Magnificent Marketing's YouTube page and, with an accompanying blog, at magnificent.com. Click here to watch the webinar now.
About Magnificent Marketing:
Magnificent Marketing is your full-service content marketing agency that will take care of all your marketing needs so that you can concentrate on the core duties needed to manage and grow your business.
Their objective is to generate leads that turn into customers while focusing on expanding the visibility of your company and brand, and positioning you to be "top of mind" for future potential clients.
In order to achieve this, they draw on their experience and belief that a mixture of traditional marketing techniques combined with modern marketing tools will yield the best results. In other words, they blend old and new school marketing to create the best school of thought.
About Gini Dietrich:
Gini Dietrich is the founder and CEO of Arment Dietrich, a Chicago-based integrated marketing communication firm. She also is the founder of the professional development site for PR and marketing pros, Spin Sucks Pro, and co-author of Marketing In the Round.
Gini is the author of the PR and marketing blog,Spin Sucks, which is a 2012 Cision Top 100 Blog, the 2010 and 2011 Readers Choice Blog of the Year, a Top 42 Content Marketing Blog from Junta42, a top 10 social media blog from Social Media Examiner, and an AdAge Power 150 blog. And she is co-host of Inside PR, a weekly podcast about communications, social media, and where they all meet and intersect.