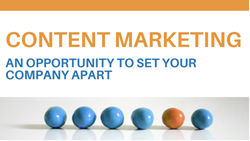 Content Marketing is not renting space from a publisher to persuade someone to do or buy something. It is media that is owned and controlled by the company producing it. This makes it even more powerful.
Austin, TX (PRWEB) July 26, 2017
It's easy to think in terms of advertising as marketing, because that's what's been the standard for decades. However, content marketing is different. It's not renting space from a publisher to persuade someone to do or buy something. It is media that is owned and controlled by the company producing it. This makes it even more powerful.
In this webinar, Magnificent Marketing, a content marketing agency, teams up with Robert Rose -- the chief strategist for Content Advisory, an education and consulting division of the Content Marketing Institute -- to present a new webinar on how to get started with content marketing and how it can be used to set a business apart from the competition.
Content marketing is a conversation. It's attracting people into an experience, one that the business controls and owns. Marketers can have a dialogue with them and learn from them. And in the process, the relationship evolves so that people become leads and opportunities for companies to sell their products or services.
Marketing in this manner allows businesses a better opportunity to reach customers, especially because so many turn to the internet and social media for their purchasing needs. Traditional advertising services can actually cause a company to lose out on sales because it won't be able to reach as many people.
More companies are getting on board with content marketing, but they're doing it the wrong way. Their content, therefore, gets lost amidst a sea of other content floating around the internet. This ends up being a frustrating waste of time and money.
Thankfully, there are ways for one to set their business apart through content marketing, and in this webinar, Rose covers just that and discusses the following topics:

Determining the ultimate purpose
Identifying the audience
Figuring out the differentiating factor
Giving the customer a great experience
And more
The webinar is available on Magnificent's YouTube channel and, with an accompanying webinar, on Magnificent.com. Click here to watch the webinar now!
About Magnificent Marketing:
Magnificent Marketing is your full-service content marketing agency that will take care of all your marketing needs so that you can concentrate on the core duties needed to manage and grow your business.
Their objective is to generate leads that turn into customers while focusing on expanding the visibility of your company and brand, and positioning you to be "top of mind" for future potential clients.
In order to achieve this, they draw on their experience and belief that a mixture of traditional marketing techniques combined with modern marketing tools will yield the best results. In other words, they blend old and new school marketing to create the best school of thought.
About Robert Rose:
Robert currently serves as the Chief Strategy Advisor for the Content Marketing Institute and is also a Senior Contributing Analyst for the Digital Clarity Group.
For more than 20 years, Robert has been helping marketers to tell their story more effectively. Over the last five years, Robert has worked with more than 500 companies, including 15 of the Fortune 100. He's provided marketing advice and counsel for global brands such as Capital One, Dell, Hewlett Packard, Microsoft, Thomson Reuters, Abbott Laboratories, The Bill & Melinda Gates Foundation and UPS.
Robert's second book – Experiences: The Seventh Era of Marketing has been called a "treatise, and a call to arms for marketers to lead business innovation in the 21st century." His first book, Managing Content Marketing, spent two weeks as a top ten marketing book on Amazon.com and is generally considered to be the "owners manual" of the Content Marketing process.