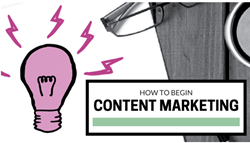 "It's called a blog, not a brag!" One should be focusing on providing important, informative and actually useful content for customers.
Austin, TX (PRWEB) March 23, 2016
Magnificent Marketing CEO and Founder David Reimherr recently had the pleasure of sitting down with Marcus Sheridan of The Sales Lion. Marcus is one of the very best content marketing trainers in the country, and the two discussed what it's like to get started with Content Marketing.
The interview can be found in its entirety in the form of a brand-new webinar on Magnificent.com.
In this webinar, the expert shares the story of his first company, Riverpools and Spas. He saved the company from going under by applying content marketing strategies. It made such an impact, that he has since spent his career helping other companies do the same.
Because Marcus realizes that just getting started with content marketing can feel overwhelming, he suggests beginning with the "They Ask/You Answer" concept, which focuses on building content around the questions that one typically asks about a service. The expert also touches on one important saying: "It's a blog--not a brag." In other words, one should be focusing on providing important, informative and actually useful content for customers rather than simply using a blog as a means to promote services and specialties.
The webinar also touches on methods for content creation and organization, along with a section on ROI and reaching goals.
Click here to watch the webinar and read the accompanying blog in its entirety now!
About Magnificent Marketing:
Magnificent Marketing is your full-service content marketing agency that will take care of all your marketing needs so that you can concentrate on the core duties needed to manage and grow your business.
Their objective is to generate leads that turn into customers while focusing on expanding the visibility of your company and brand, and positioning you to be "top of mind" for future potential clients.
In order to achieve this, they draw on their experience and belief that a mixture of traditional marketing techniques combined with modern marketing tools will yield the best results.
In other words, they blend old and new school marketing to create the best school of thought!