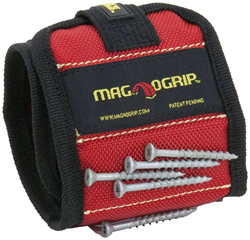 TheHardwareCity.com is offering free shipping and a discount for a new wristband by MagnoGrip.
Issaquah, WA (PRWEB) May 19, 2014
When it comes to home improvement tools, TheHardwareCity.com has it all. The online boutique recently added the MagnoGrip 311-090 Magnetic Wristband to its extensive inventory of clever tools and accessories. Craftsmen of all types will enjoy this practical addition to their work apparel.
MagnoGrip is America's number one manufacturer of magnetic wristbands. The company is known for creating practical and long-lasting tools for every type of craftsman. The new magnetic wristband offers a clever solution for keeping track of screws and small tools while on the job. It is embedded with strategically placed magnets, which can catch loose screws, drill bits, nails, fasteners, and any small metal object. When it's not in use, MagnoGrip can easily be attached to a metal shelf or ladder.
The wristband is designed to hold up to one pound of materials, yet it is lightweight and comfortable enough to wear all day. The MagnoGrip magnetic wristband is crafted with heavy-duty ballistic polyester that is tough yet breathable. Tradesman and do-it-yourselfers will benefit while they work from therapeutic relief given by the wristband's strong magnets. The MagnoGrip comes in red and is one size fits all.
TheHardwareCity.com customers receive a 58 percent discount and free shipping when they purchase the magnetic wristband from the online store. Consumers can enjoy the ease of browsing and purchasing home improvement tools and supplies for their home or office and get free shipping on certain items available on TheHardwareCity.com.
About TheHardwareCity.com:
Opening its online boutique in 2007, TheHardwareCity.com is the home improvement tool and gear specialists. Tool experts offer advice every weekday through live chats on the website. The extensive catalog continues to grow with new and innovative products every month. Striving to provide quality products at low prices, the large online hardware store offers discounts on numerous items along with free shipping. In addition to tools, the site encompasses every home improvement department, including plumbing, heating and cooling supplies, electrical, building supplies, bath accessories, industrial supplies, lawn and garden, and much more. Browse the store at http://www.thehardwarecity.com/.