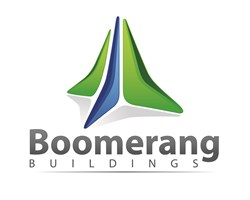 Customers don't have to get into the real estate and property management business just because they need space.
Memphis, TN (PRWEB) September 25, 2013
Mahaffey, the nationwide provider of Boomerang Buildings, announced today that it will exhibit at CONSTRUCT at Music City Center in Nashville, Tennesse, September 25-27, 2013. Construction specifiers who visit Mahaffey's booth (#145) can learn how Boomerang Buildings can save them 70 to 82 percent over traditional building lease and purchase options.
Boomerang Buildings are temporary steel buildings for construction sites, industrial facilities, and commercial and government applications. Available in 30- to 80-foot widths, with unlimited lengths measured in 15-foot increments, Boomerang Buildings' clearspan modular steel structures can be deployed and installed in as little as 21 days within the continental United States. When compared with permanent building purchases and long-term space leases, which can take 90 to 180 days to build or build-out for occupancy, Boomerang Buildings offer significant cost savings and convenience.
"The best part is that Boomerang Buildings are there when you need them and gone when you don't," said Beth Wilson, Marketing Manager for Mahaffey. "Customers don't have to get into the real estate and property management business just because they need space."
Boomerang Buildings, on the front end, offer low startup costs and can be quickly operational. Structures are portable, which has significant implications for property taxes versus a permanent structure. Boomerang Buildings can be moved, expanded or relocated – significant flexibility advantages over lease and purchase options. Because the structures can be removed with a phone call and quick response by a trained Mahaffey deconstruction crew, there is no long term commitment. Finally, Boomerang structures are considered a business expense versus a capital expenditure – a strategic financial choice for many organizations.
About Mahaffey
Mahaffey is the leading provider of temporary and portable structures in the United States. With more than one million square feet of available inventory, Mahaffey can respond rapidly to any immediate shelter requirement. With experienced project management teams and dedicated service professionals, Mahaffey exceeds customer expectations with efficient engineering, turnkey installation and sustainable solutions. Mahaffey offers several economic alternatives to new construction, renovation and long-term lease commitments. Since 1924, Mahaffey has supplied custom, clearspan structures for temporary warehouses, construction and industrial sites, environmental remediation enclosures, manufacturing buildings, aircraft hangars, disaster relief shelters, and sports and recreation facilities.