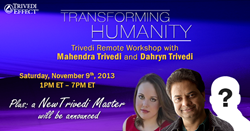 (PRWEB) November 09, 2013
As a part of the Trivedi Remote Workshop, a historic event, 'TRANSFORMING HUMANITY,' is going to be held on November 9, 2013 at 1pm ET to 7pm ET, under the aegis of Mr. Mahendra Trivedi and Dahryn Trivedi. On this very occasion, a new Trivedi Master would be announced and the Trivedi Masters would explore and discover the one simple solution to the most challenging problems plaguing humanity.
People from all walks of life across the world are invited to be a part of this significant event, where apart from getting energy transmissions from Mr. Mahendra Trivedi and Dahryn Trivedi along with the new Trivedi master, they would also be able to discover how they can play a significant role in transforming humanity.
Recently, during the period of special prayers from October 5-13, 2013, a question crossed Mr. Trivedi's mind- "Does this Power that I transmit have the ability to solve the greater problems of humanity as a whole?" He soon received his answer from his Divine: "YES!" Even more significantly, he also realized how this can be accomplished and what a person can do to help.
The agenda of this special workshop is to discover what the Trivedi Masters and you can do to help find real and lasting solutions to the greatest problems of the world – now and for generations to come.
Immerse yourself in profound knowledge, deep experience and exciting discovery. Get an energy transmission from Mr. Mahendra Trivedi, Dahryn Trivedi and The new master as well, all from the comfort of your home.
People are still registering to participate in this special workshop. To know more and register now, please visit http://www.trivedieffect.com/trivedi-remote-workshop/.
Your gracious participation is solicited.