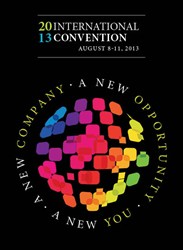 Greensboro, NC (PRWEB) August 15, 2013
In the heart of North Carolina, locally-owned Market America, Inc. has taken the global e-Commerce arena by storm with its latest announcements, made here last week at the company's 2013 International Convention.
With more than 20,000 entrepreneurs in attendance during the four-day event at the Greensboro Coliseum, Market America and its retail site, SHOP.COM, unveiled state-of-the-art technologies, new growth markets and expanded product lines the company believes will drive its internet sales higher than ever before.
"We had entrepreneurs from around the world here this past week that represent six million potential customers," said President and CEO JR Ridinger. "With the introduction of our new technologies, new products and enhanced systems, they are equipped to engage new opportunities, making it easier than ever before for them to succeed."
Market America|SHOP.COM, ranked #57 on Internet Retailer Magazine's Top 500 Guide, is making it easier for online shoppers to find the best products in the marketplace at the best prices, according to Chief Operating Officer Marc Ashley.
Among the technological advancements announced in Greensboro: The company's newly-launched Virtual Home Advisor, a tool enabling customers to save by easily comparing products currently in their homes to alternatives offered through SHOP.COM; a more robust SHOP.COM user experience; and expanded social shopping developments through the SHOP.COM Trend Shop application.
The company also announced the expansion of its Emerging Markets Program, which enables customers throughout the world to purchase Market America-branded products. Through this program, the company is looking to expanding its footprint in markets such as New Zealand, Spain, Panama and Singapore.
"It's the beginning to opening up a full market," Ashley said of the Emerging Markets Program. "It will springboard us into more new territories than ever before. The dynamics have changed."
In addition, new product launches took center stage at Market America|SHOP.COM 2013 International Convention. The award-winning Motives® by Loren Ridinger cosmetics line – created by Market America|SHOP.COM Senior Vice President Loren Ridinger – unveiled its Fall/Winter 2013 collection, Modern Day Romance, in addition to line expansions for both the Motives and Motives for La La brands. La La Anthony, entrepreneur, actress and star of VH1's hit show La La's Full Court Life, appeared onstage with Loren Ridinger to unveil the newest pieces in her Motives for La La makeup collection.
Anthony wasn't the only celebrity drawn to Greensboro for Market America|SHOP.COM 2013 International Convention. Basketball Hall of Famer Scottie Pippen appeared and discussed his Prime Joint Support Formula by Isotonix® product and mingled with attendees, while former Major League Baseball All-Star and MLB Network analyst Cliff Floyd came out to support the company.
Market America also launched DNA Miracles and DNA Miracles Natural – an exclusive baby and child care line created by actor/singer Duane McLaughlin and Amber Ridinger McLaughlin, beauty/fashion expert and creator of the high-end skin care line Lumeire de VieTM. DNA Miracles provides the highest-quality body and wellness products, designed for babies, children and expectant mothers. DNA Miracles Natural is an extension of the line with natural formulations to gently cleanse, deeply moisturize, and naturally enhance a baby's hair and skin without harsh and unnecessary chemicals. DNA Miracles Natural products are nontoxic, hypoallergenic, and free of parabens and phthalates.
The company announced additional product news, including:

Three new product offerings in the revolutionary Lumiere de Vie skincare line, created by Amber Ridinger McLaughlin;
Weight loss line TLS Weight Loss Solution introduced its Find Your Fit Challenge awarding $100,000 in cash prizes, registration for which is open now on its website tlsSlim.com;
The introduction of multiple health and wellness products, including Frusanté, a dietary supplement juice; Choice Energy and Choice Protein bars; Isotonoix Immune, an immune-boosting nutritional supplement; and TLS Whey Protein Shakes.
The new products introduced at Market America|SHOP.COM 2013 International Convention are available for purchase now on SHOP.COM.
About Market America, Inc. & Shop.com
Market America, Inc. is a product brokerage and Internet marketing company that specializes in One-to-One Marketing. Its mission is to provide a robust business system for entrepreneurs, while providing consumers a better way to shop. Headquartered in Greensboro, NC, the company was founded in 1992 by President and CEO JR Ridinger and has generated $4.3 billion in accumulated sales. Market America employs nearly 700 people globally with operations in the United States, Canada, Taiwan, Hong Kong, Australia, United Kingdom and Mexico. Through the company's shopping website, SHOP.COM, consumers have access to over 40 million products, including Market America exclusive brands and thousands of top retail brands. By combining Market America's entrepreneurial business model with SHOP.COM's powerful comparative shopping engine, Cashback program, Hot Deals, social shopping integration and countless other features, the company has become the ultimate online shopping destination.
For more information: United States: http://www.marketamerica.com or http://www.SHOP.COM.
*These statements have not been evaluated by the Food and Drug Administration. This product(s) is not intended to diagnose, treat, cure or prevent any disease.