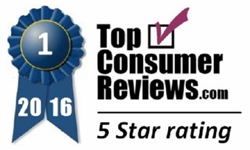 Earth Class Mail is a one-stop shop for anyone needing help with managing their mail.
Overland Park, KS (PRWEB) August 09, 2016
TopConsumerReviews.com recently gave their highest rating to Earth Class Mail, a leader among providers of Mail Scanning Services.
Mail Scanning Services seek to make life easier for business owners, individuals living overseas, people traveling for extended lengths of time, and those who simply need help managing their professional or personal mail. When using a Mail Scanning Service, customers direct their mail to the service and notify senders of the new address. They can then access their mail over the internet and decide if the individual pieces should be shredded, recycled, or even forwarded to a given physical address.
"Earth Class Mail is a one-stop shop for anyone needing help with managing their mail," according to Brian Dolezal, of TopConsumerReviews.com, LLC. "Their Mail Scanning Services are the most comprehensive we've seen in the industry, allowing customers to have their mail handled at any volume, from big businesses to retirees traveling year-round in an RV. And, unlike some competitors, Earth Class Mail will recycle customer mail at no extra charge, making them the most eco-friendly provider we've found. Whether you're looking for extra help with the volume of mail coming into your small business, or you're working overseas and don't want to wait weeks for your mail to be forwarded, Earth Class Mail is your best choice. They earn our top rating for Mail Scanning Services."
To find out more about Earth Class Mail and other businesses providing Mail Scanning Services, including reviews and comparison ratings, please visit the Mail Scanning category of TopConsumerReviews.com at http://www.topconsumerreviews.com/mail-scanning/.
About Earth Class Mail
Earth Class Mail was founded in 2006 with a mission to help businesses, independent entrepreneurs, busy professionals, and frequent travelers to manage their mail. Given that the majority of the world's transactions have moved to the digital realm, Earth Class Mail focuses on building a better back-office, making it easier for people to collaborate, get money deposited faster, and take action on important mail more quickly. With addresses is more than a dozen major cities, Earth Class Mail processes more than 100,000 mail items every month.
About TopConsumerReviews.com
TopConsumerReviews.com, LLC is a leading provider of independent reviews and rankings of hundreds of consumer products and services. From Mail Scanning Services to Passport Services and Company Incorporation, TopConsumerReviews.com delivers in-depth product evaluations in order to make purchasing decisions easier.