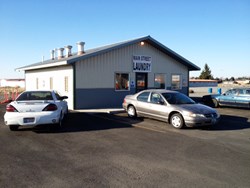 They didn't try to sell us the Taj Mahal when less was going to work.
Boardman, OR (PRWEB) December 26, 2013
The opening of Main Street Laundry in Boardman, OR, in 2012 brought a reliable and clean Laundromat to an area in need of a coin-op laundry. Owner Don Russell and his partner Steve Doherty worked with Jim Wright and Western State Design's team in Portland to design their Laundromat from the ground up. A year after opening its doors, Russell is back working with Jim Wright to expand his store and add more equipment.
Russell opened a car wash nearly 12 years ago on a large area of land on Main Street in Boardman. Back then he considered adding a Laundromat, but decided against it because the small town of 3500 people already had one. When that laundry shut down and residents of the town had to travel 25 miles to the next closest coin laundry, he revisited the idea and decided to move forward.
After joining the Coin Laundry Association (CLA) and researching equipment, Russell and Doherty decided to purchase equipment made in the USA. Two distributors in the area offered American made equipment and after meeting with them both Russell chose to work with WSD and install Dexter Laundry equipment. The pricing and services were similar, but Russell found that Wright and the WSD team provided more help in the decision process and they were honest about the necessary equipment as well as the lead-time. "They didn't try to sell us the Taj Mahal when less was going to work," Russell said.
Russell wanted the best equipment and installed the fast and efficient Dexter Express line of washers and dryers for his coin-op laundry. Dexter Express machines can turn a load of laundry in about an hour. This saves time for his customers and saves on energy costs for him. His decision has paid off as many of his customers tell him that it's the nicest coin-op laundry they've ever been in.
He learned from his car wash business that keeping equipment clean and functional means customers don't abuse machines and the place stays in good shape. Russell and Doherty share routine duties with one of them visiting the store for an hour each morning to complete the maintenance tasks. "It starts out clean every morning," Russell said.
WSD provided Russell and his contractors with a layout drawing, utility schedule and shop drawings to aid in construction. Working with such an experienced company helped the overall process and when the contractors had questions about things like where to put the drain pits, WSD offered their expertise and worked with the team.
Russell remarked that he enjoyed working with the installation technician from WSD's Portland office who even offered a personal cell phone number after the installation was complete. Russell was able to call him with a few troubleshooting questions afterward, and the technician talked him through a couple minor adjustments over the phone. Since Portland is a couple hours away, this was a huge help.
When asked if he would do anything differently, Russell laments that he didn't open this business 12 years ago when he first thought about it. Other than that, had he known how busy the laundry would be, he would have built a larger building. He's currently working with Wright and WSD to expand the laundry by adding more machines, including a 90lb capacity washer from the Dexter Express line. Russell is very pleased with the success of Main Street Laundry and the consistent business it brings in daily.
With 37 years experience as a premier, full-service distributor to the coin-op laundry industry, Western State Design has grown to become one of the largest coin laundry equipment distributors in the world. Western State Design is proud to be a Dexter Authorized Distributor, and has been recognized as No. 1 Dexter Distributor Worldwide in 2009, 2010, 2011 and 2012. Dexter Laundry located in Fairfield, Iowa, is an employee owned leading manufacturer of commercial laundry equipment. All equipment is manufactured in Iowa. Visit WSD online at http://www.westernstatedesign.com or call toll free at 1-800-633-7153 to learn more.