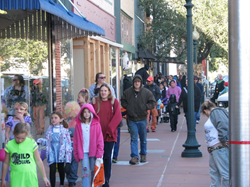 DUNCAN, Okla. (PRWEB) October 01, 2018
Candy donations are being requested on behalf of the Main Street Duncan organization, a local nonprofit dedicated to promoting and preserving the historic downtown Duncan district. Main Street Duncan collects the candy donations and disburses the candy to the small business owners and organizations setting up at Boo Review. All the kids in costume receive candy that Saturday and the candy donations are appreciated since roughly 2500 kids attend this free event.
"Our community enjoys this event so much" said Destiny Ahlfenger, Executive Director of Main Street Duncan, "and the citizens of Duncan are very generous; candy donations are usually starting now."
Donations of candy can be dropped off at the Main Street Duncan office located at 828B W. Main St. Additionally, donations of pencils, bookmarks, and other items children would enjoy are being accepted in an effort to provide allergy free treats to the kids in costumes. The merchants will line the sidewalks offering candy and treats to all those in costume during the annual event.
"Something besides candy is always a real treat for those kids who suffer from food allergies" said Natalie Cole, Main Street Duncan Treasurer and commercial loan officer of BancFirst, "and we love being a part of that."
This year's festivities will include the traditional costume contest, located at the parking lot beside The Palace Theater at Noon, with prizes for Best Group Costume, Cutest Costume, Scariest Costume, and Most Creative in five categories: Infant- 3 years, 4-7 years, 8-11 years, 12 years and up, and GROUP.
The entire event occurs on Main Street from 7th Street to 10th Street as well as in the 700 block of Walnut Avenue in front of the Freedom Biker Church. On Walnut Avenue, bounce houses, face painting and various other fall themed activities will take place. If you would like to volunteer for this event, please visit the Main Street Duncan website for application information.
To pre-register for the costume contest, visit http://www.mainstreetduncan.net/events; registration for the costume contest can also take place on site the day of the event..
Main Street Duncan is a 501(c)3 charity and all donations are fully tax-deductible to the extent of federal and state tax laws; the program has been affiliated with the Oklahoma Main Street Center and nationally accredited through the National Trust for Historical Preservation since 1986.