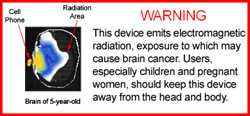 Warning: This device emits electromagnetic radiation [EMR], exposure to which may cause brain cancer. Users, especially children and pregnant women, should keep this device away from the head and body.
Portland, ME (PRWEB) April 02, 2014
According to RF Safe, Maine's momentum to create the Wireless Information Act, Bill LD 1013 — the bill had advanced through both the House and Senate by March 18, which called for cell phone radiation warning labels directing cell phone users to precautionary language in the manual.
Regarding the details of the bill.LD 1013 03/20/2014 Session - 126th Maine Legislature Sec. 1. 22 MRSA c. 261-B http://www.mainelegislature.org/legis/bills/bills_126th/billtexts/HP071101.asp
Even though the bill had just passed the Maine House of Representatives last month, it was derailed by last minute vote changes during the final enactment process.
State of Maine Legislature 03/20/2014 Rollcall for House Roll-call #550: LD 1013 (HP 711) http://www.mainelegislature.org/LawMakerWeb/rollcall.asp?ID=280047766&chamber=House&serialnumber=550
It's the opinion of RF Safe's Founder, John Coates that, "There is no question about the wireless industry's influence in government being the driving force behind the bill's failure and the public being kept in the dark about the hazards or cell phone radiation exposure."
The text of LD 1013 is minimal by comparison with the label proposed by Rep. Andrea Boland four years ago, which read: "Warning: This device emits electromagnetic radiation [EMR], exposure to which may cause brain cancer. Users, especially children and pregnant women, should keep this device away from the head and body." Included with the warning was a diagram showing the massive penetration of EMR from a cellphone held to the ear of a 5 year old.
After the failure of that first labeling bill and of variants introduced subsequently, the 2014 version, the Wireless Information Act was stripped down to a package label simply telling users where to look for the manufacturer's own warning, and mandating that it take effect only after four other states pass similar laws.
Despite charges from a few legislators and the state's attorney general that a warning label on cellphones would violate First Amendment and other legal provisions.
Lessig's assurance that the advisory label is indeed warranted and would indeed survive constitutional challenge, along with his pledge to provide pro bono legal counsel in the event of any lawsuit, was very likely what secured some of the last-minute key votes in the Senate early on. Harvard Law School professor Lawrence Lessig lecture in Portland on cellphone radiation can be heard here at 47:15 into the lecture
RF Safe claims, "Over-all there is a growing dissonance among communities about the government's lack of action to protect the American people from wireless radiation, this was clearly seen in January 2014 when FCC chairman Tom Wheeler was in Silicon Valley." The full video can be seen at RF Safe here http://www.rfsafe.com/fcc-chairman-tom-wheeler-confronted-cell-phone-radiation-silicon-valley/
During hearings, lobbyists speakers testifying against the precautionary label were not above impugning the integrity of world-renowned experts brought before the Health and Human Services committee to explain the DNA damage that results from cell phone radiation exposure.
RF Safe and others worried about the safety of cell phone users, especially children - openly thank the four House committee chairs who voted in favor of warning consumers— Sharon Treat of Hallowell, Michael Shaw of Standish, Walter Kumiega of Deer Isle and Charles Theriault of Madawaska —all put people before wireless industry profits.
About Radio Frequency Safe – http://www.RFSAFE.COM
RF SAFE is the world's premier provider of cell phone radiation protection accessories and informational data. Since 1998 RF (Radio Frequency) Safe has been dedicated to evolving the wireless industries safety standards, by engaging in the business of design, testing, manufacture, and sale of safety technologies to mitigate harmful effects of cell phone radiation.