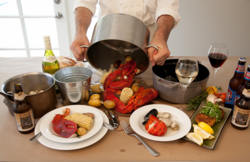 Thank you so much for the excellent service and most delicious lobsters we ever have eaten!
Portland, Maine (PRWEB) July 11, 2013
Business owner Mark Murrell is worried. Recently, he's been reading about the widespread problem with mislabeling seafood in the United States and he's concerned it could hurt his business.
In 2010, Murrell founded GetMaineLobster.com, an online Maine seafood delivery service that specializes in live and cooked Maine lobster, which means he relies solely on building his operation through the Internet. Since his business's launch, sales have at least tripled annually, and his company's customer relations reputation has captured media attention and most recently a spot in the Chase Business Platinum national advertising campaign.
However, with the recent attention given to the rampant practice of mislabeling seafood directed to unsuspecting consumers, he believes it can "plant a seed" of distrust and possibly have an adverse impact on the seafood industry in general.
According to Kimberly Warner, a senior scientist at Oceana, the largest non-profit ocean conservation organization in the world, more than 90 percent of the red snapper sold in the country is not red snapper, rather tilapia or rockfish, which are cheaper varieties of fish and often contain toxins. (http://oceana.org/en/news-media/press-center/press-releases/oceana-investigation-finds-widespread-seafood-mislabeling-in-la)
A recent report from Oceana reveals that 31 percent of seafood sold in restaurants and grocery stores in South Florida is something other than how it is represented on labels and menus. (http://oceana.org/en/news-media/press-center/press-releases/oceana-finds-31-of-seafood-mislabeled-in-south-florida)
While Murrell fully supports the push to get the information about mislabeling seafood out to the American public, he is also looking for ways to reassure his customers that what they are buying from him on the Internet is the real thing.
"It's a challenge to make that human connection and build relationships when you're shopping, selling, and making transactions on the Internet," says Murrell. "Even though we've had a lot of success with it, I don't want to lose traction. I want people to understand that rather than stop buying seafood they should get educated."
And Murrell plans to do that: educate. In fact he recently started to include tips on his Web site to help customers accurately identify the type of seafood they're buying (http://getmainelobster.com/maine-lobster-facts/maine-lobster-history). Additionally, Murrell will teach the public ways to identify Maine lobsters and other seafood during chef's table events he hosts throughout the country.
"With Maine lobster it's pretty simple," says Murrell. "They have a distinct color and they grow claws. Sometimes they'll lose a claw or two, but those grow back. For other types of seafood we sell, it can get a little more challenging, but there is a way."
Unfortunately for Murrell and other owners of seafood businesses who have spent years building solid reputations in the industry, there seems to be little risk to the perpetrators of labeling fraud according to a recent report by FoxNews.com. The U.S. Government Accountability Office reports that less than one percent of all imported seafood is inspected to determine if it is what the label identifies it to be, which makes accountability almost non-existent.
Yet there is no drama from Murrell's perspective about how to upend the potential disadvantage seafood labeling fraud creates for his business's reputation. Just as important to him are his long-standing relationships with local lobstermen and fishermen. The trust among them is anchored deeply, the collective goal is singular: "stick together and respect the trust your customers have in you."
"It takes years to build the kind of business relationships I have with local fishermen and with customers," says Murrell. "I will do what I can to combat the problem that a few dishonest people in the industry are doing, but it really boils down to all of us educating ourselves about the food we eat and where it comes from."
For more information about Mark Murrell, GetMaineLobster.com, visit http://getmainelobster.com or contact Rose Mulligan, rrmulli(at)yahoo(dot)com, 207-402-0171. For more information about seafood mislabeling fraud, go to the Oceana Web Site at http://oceana.org.