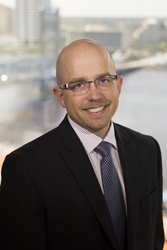 "My background growing companies will be instrumental in leading our expansion," said Boyer. "We see increasing demand for U.S. textile manufacturing and we're preparing to accommodate that demand."
BIDDEFORD, Maine (PRWEB) February 23, 2015
Preparing for expansion, Maine Textiles International has named Mark W. Boyer as the company's new CEO.
As CEO, Boyer will lead the company's expansion into new segments and markets both domestically and internationally while maintaining the organization's environmentally conscious and customer-centric focus.
Prior to joining Maine Textiles International, Boyer was the principal of The Joe Group, a national consulting group providing a compilation of services in multiple industries and segments to companies both large and small.
Boyer also served as CEO of Foundation Financial Group from 2011 until 2014, where he created a strategic platform for the company's growth. Under Boyer, the financial services company experienced exponential growth throughout the U.S. and expanded its services from mortgages to include taxes, retirement and insurance.
"My background growing companies will be instrumental in leading our expansion," said Boyer. "We see increasing demand for U.S. textile manufacturing and we're preparing to accommodate that demand."
Previous Maine Textiles CEO Claudia Raessler is moving to strategic alliances and continues to serve as in-house counsel for the company. In 2012, under Raessler's leadership, the company acquired dyeing equipment from the Northeast and began its initial start-up phase and production.
Maine Textiles International resides in the footprint of an 18,000-square-foot textile mill along the Saco River in Biddeford, Maine. The company operates the only U.S. yarn dyeing operation certified under the Global Organic Textile Standards and controls multiple iconic brands like Paternayan, Lopi and Elsa Williams. A sustainable company, Maine Textiles International earned carbon neutral certified status in 2013, 2014 and 2015. Maine Textiles International is committed to giving customers an exceptional product with an industry-leading, swift turnaround time.
###
For additional information, interview and image requests, contact Axia Public Relations at 888-773-4768, ext. 700.