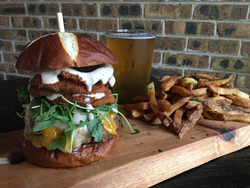 Our goal is to be a neighborhood anchor for years to come.
St. Charles, IL (PRWEB) July 11, 2017
Restaurateurs Kevin and Brian Hahn have opened the doors to their third location, Main Street Pub in St. Charles, Illinois. Joined by Corporate Chef Scott Fisher and General Manager Chris Dodsworth, the team now brings the Northwest suburbs the same wildly popular concept that has taken off in Naperville and Glen Ellyn over the last few years. A Ribbon Cutting ceremony with local dignitaries followed by a Public Grand Opening Party is scheduled for Thursday, August 3rd at 4:30 pm at the new full-service restaurant and bar (which is already open to the public).
Welcoming Main Street Pub to the historic downtown St. Charles district on August 3rd will be the Mayor as well as officials from the Membership Committee and the Chamber of Commerce. After the Ribbon Cutting proceedings wrap, the Hahns are inviting the neighborhood to celebrate their official entry into town with a Grand Opening Party (until close) that includes 20%-off all food items, $5 draft beers, and a Solemn Oath (Naperville brewery) Tap Takeover.
"We're excited to share our vision for quality Pub food with the Northwest community," said co-owner Kevin Hahn, a Naperville native who hopes the arrival of Main Street Pub will help St. Charles continue to grow as a dining destination. "Our goal is to be a neighborhood anchor for years to come."
About the Menu:
Main Street Pub carries the same creative menu as its sister restaurants, headlined by an acclaimed lineup of 18 innovative burgers designed by Chef Fisher. The never frozen, hand-pattied half pound Angus burgers, which can approach the size of a softball, have been consistently ranked among the "best" in Chicagoland by critics and customers alike. Since soft opening in St. Charles last month, Main Street Pub's most popular burger choices so far have been the California, which comes topped with avocado, bacon, cheddar cheese, lettuce, tomato and ranch dressing, and the Goodfella, which comes with fresh mozzarella, tomato, red onion, basil, garlic and Parmesan sauce. Customers can also opt for chicken breast or a black bean and quinoa patty instead of beef and choose from three types of buns. An array of eclectic starters range from Fried Pickle Chips, Bacon Wrapped Dates and Flat Breads to Chicken Wings, Buffalo Blue Mac & Cheese and Beer Cheese Pretzel Sticks. In addition to a selection of freshly-made entrée salads, Main Street Pub also offers a variety of hand-cut French Fries, with Truffle Parmesan, Sweet Potato, and Cajun spins.
Along with a diverse list of wine and spirits, the bar also holds 20 beers on tap – offering a wide assortment of craft brews. Main Street Pub supports local breweries and frequently rotates lines so that there is always something new for customers. Together with daily bar specials, the featured menu special is 20%-off any Burger and Fries, Monday through Friday from 11:00 am to 4:00 pm.
About the Design:
In respect to the new Main Street Pub design, the partners did a complete floor-to-ceiling rebuild of the building to accomplish their ambition, electing for a modern, industrial ambiance instead of a standard old school Pub atmosphere. The décor matches the upscale, inspired Pub menu, consisting of reclaimed dark woods, exposed brick, iron accents, Edison lighting and a concrete bar top. The warm interior space, which has seating for up to 125 people, gives an open air feeling between the bar and dining areas, while the dog-friendly, flower-laden patio gives way to additional seating out back. For sports fans, wall-to-wall big screen monitors broadcast sporting events year-round while Pub favorites like darts await competitive spirits for live in-house action.
About the Chef:
After studying culinary arts in college, Naperville native Scott Fisher trained under some of Chicago's most venerable chefs, including James Beard award-winning Paul Kahan at Publican on Fulton Market and Michelin award-winning Paul Virant at Vie in Western Springs. Chef Fisher's approach to cooking is to "use ingredients that most people are familiar with," while keeping a mindful eye on quality, freshness and simplicity. He's opened all three restaurants; Jackson Avenue Pub and the two Main Street Pubs, and is responsible for kitchen direction and menu design.
Main Street Pub
Address: 204 W Main St, St Charles, IL 60174
Phone: (630) 797-5870
Website: http://www.MSPStCharles.com
Hours:
Friday 11AM–2AM
Saturday 11AM–2AM
Sunday 11:30 AM–2AM
Monday 11AM–2AM
Tuesday 11AM–2AM
Wednesday 11AM–2AM
Thursday 11AM–2AM
Media Contact:
Jody Grimaldi
Cell 630/470-0044
GrimaldiPR(at)gmail(dot)com