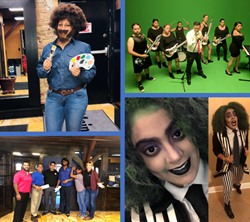 We're always looking for new ways to make every day a great day for the MaintenX team.
TAMPA, Fla. (PRWEB) November 01, 2018
MaintenX International announced the winners of their 2018 Halloween Costume Contest yesterday. While all participants received a $25 prize for their participation, the top winners received hundreds of dollars in cash prizes and office bragging rights for the year.
Winning $200 each were Jennifer Rivera (Most Creative) for her take on painter Bob Ross and Cierra Preston (Scariest) for her terrifying Beetlejuice. The Group Costume category ended in a tie between Florida and California groups for their respective coworker doppelganger and rock band looks. Each Group Costume winning team member took home $100.
"MaintenX really loves to offer opportunities for our employees to get creative and have fun together," said Bill Schaphorst, MaintenX's VP of Business Development. "In the past, we've had contests to design shirts for all our employees across the nation. We've hosted painting contests and hung winning artwork in the halls. We're always looking for new ways to make every day a great day for the MaintenX team."
In addition to Halloween contests, MaintenX employees enjoy 'spook-tacular' benefits all year long. MaintenX employees receive medical, dental and vision insurance, 401(k) options with a 5 percent match and immediate vesting, as well as paid vacations and holidays. Unique onsite benefits like a gym, kitchen and bi-weekly sponsored lunches also set MaintenX apart from the rest.
For over 35 years, MaintenX has worked to create a positive, engaging workplace for every employee. For more information about MaintenX, or to learn about joining the MaintenX team, visit http://www.maintenx.com.
ABOUT MAINTENX INTERNATIONAL:
MaintenX International is a fully-licensed, facilities repair company. They are one of the largest national self-performing facility maintenance and repair companies in the U.S. MaintenX has created a network of knowledgeable and professional technicians throughout the country. With their team of well-trained technicians, MaintenX self-performs and manages facility maintenance for clients. In the event there is not a MaintenX technician in the area, the company has fostered a network of preferred vendor partners throughout the country to provide superior service for their clients. For more than 35 years, MaintenX has been expertly serving multi-location retail stores, restaurant chains, and Fortune 500 companies nationwide.