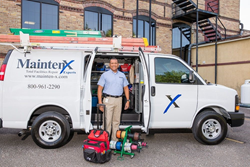 Hiring a professional to service an HVAC system can help facility managers increase the useful life of their equipment.
TAMPA, Fla. (PRWEB) September 25, 2018
Each year, National Tune-Up Day is a great reminder for homes and businesses to give their heating and air-conditioning system a checkup. As cooler fall temperatures begin to settle from coast to coast, MaintenX technicians can help facility managers ensure their HVAC systems are ready for any weather.
A proper system check includes a number of steps to ensure all parts of a heating and cooling system are functioning properly. When examining a HVAC system, a good first step is to remove dirt and dust from both internal and external equipment. It's also important to check vents for blocks and leaks, test drains and traps to ensure they function properly, and inspect wires and filters for corrosion and damage. These issues may seem small, but they can make an HVAC system less efficient, making it harder to heat and cool a space and costing the business additional money in electricity.
"A good HVAC system will make your business environment pleasant, so it's easy to forget it when it's working properly," said Bill Schaphorst, MaintenX's VP of Business Development. "That means it's also easy to forget how complex and important HVAC systems are until something goes wrong. That's why it's a good idea to call in a professional for a yearly checkup."
Hiring a professional to service an HVAC system can help facility managers increase the useful life of their equipment. This helps to reduce unexpected costs for major repairs and decreases the likelihood a facility will experience uncomfortable or unsafe indoor temperatures, which can impact a business's bottom line through loss of work time or customer traffic. These benefits mean facility managers are more likely to stay on-budget and maintain the company's profitability.
For more information about MaintenX, or to learn more about what tune-ups are available to businesses across the nation, visit http://www.maintenx.com.
ABOUT MAINTENX INTERNATIONAL:
MaintenX International is a fully-licensed, facilities repair company. They are one of the largest national self-performing facility maintenance and repair companies in the U.S. MaintenX has created a network of knowledgeable and professional technicians throughout the country. With their team of well-trained technicians, MaintenX self-performs and manages facility maintenance for clients. In the event there is not a MaintenX technician in the area, the company has fostered a network of preferred vendor partners throughout the country to provide superior service for their clients. For more than 35 years, MaintenX has been expertly serving multi-location retail stores, restaurant chains, and Fortune 500 companies nationwide.