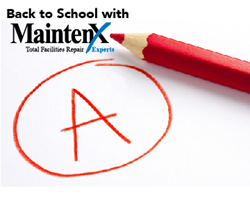 If a school facility experiences damage during a storm, MaintenX technicians are trained and ready to help.
TAMPA, Fla. (PRWEB) August 29, 2018
Hurricane season lasts from June 1 to November 30. This means students are well into the school year before the threat of storms diminishes. Fortunately, MaintenX is on call throughout the hurricane season to help school facility managers prepare and recover from storms, no matter the severity.
After years of relatively quiet hurricane seasons, 2017 saw widespread damage from hurricanes across the southern United States and Puerto Rico. From electrical outages to structural damage and impassable roads, hurricanes can take a toll on everyone, disrupting all facets of normal life, including schools.
Before the school year begins, MaintenX can inspect school facilities for anything that needs touching up or repairing. They'll take a close look from curb to roof and can perform any necessary fixes. These small repairs and replacements can help schools reduce the severity of damage that a storm can cause. For example, a broken shingle may not seem like much, but could lead to severe water damage inside the building should the shingle allow a roof leak. Additionally, MaintenX can provide services like window boarding or sandbag placement in the event a storm is imminent.
If a school facility experiences damage during a storm, MaintenX technicians are trained and ready to help. From roof repair and sandbag removal to emergency power generation and electrical support, MaintenX technicians can work with facility managers to address maintenance needs.
For more regular support, MaintenX can perform preventative maintenance, which is pre-scheduled inspections and small fixes to make sure that nothing big goes wrong suddenly. This not only keeps school facilities in excellent working order, it also gives peace of mind, prevents disruptions, and allows administrators to budget more effectively.
MaintenX's expert technicians have the experience to keep schools safe and functional for the entire academic year. For more information on MaintenX and the storm support they provide, visit http://www.MaintenX.com.
ABOUT MAINTENX INTERNATIONAL:
MaintenX International is a fully-licensed, facilities repair company. They are one of the largest national self-performing facility maintenance and repair companies in the U.S. MaintenX has created a network of knowledgeable and professional technicians throughout the country. With their team of well-trained technicians, MaintenX self-performs and manages facility maintenance for clients. In the event there is not a MaintenX technician in the area, the company has fostered a network of preferred vendor partners throughout the country to provide superior service for their clients. For more than 35 years, MaintenX has been expertly serving multi-location retail stores, restaurant chains, and Fortune 500 companies nationwide.