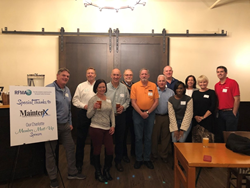 MaintenX is a proud RFMA member and knows the importance of building strong relationships between facility managers.
CHARLOTTE, N.C. (PRWEB) November 14, 2018
MaintenX brought restaurant and vendor professionals together for a fun night of networking at the Restaurant Facility Management Association (RFMA) November Member Meetup. Attendees were treated to tours of the Olde Mecklenburg Brewery after spending time meeting other Charlotte industry professionals.
"We are proud RFMA members and know the importance of building strong relationships between facility managers," said Bill Schaphorst, MaintenX's VP of Business Development. "We're happy to sponsor events like RFMA's Monthly Meetup because they help us stay up to date on the needs of our clients."
A dozen professionals from well known brands like Bojangles, Hooters, Longhorn Steakhouse and Krispy Kreme attended the member-exclusive event. RFMA hosts hundreds of events each year, ranging from happy hours and webinars to annual conferences and volunteer opportunities. Members across the nation are provided with the tools and educational opportunities they need to advance their professional careers and organizations.
RFMA members see real value in the monthly networking opportunities and are grateful sponsors like MaintenX make the events possible. One attendee noted, "I like this local format and getting to know vendors and restaurant folks that are in my backyard. I am a believer that networking works and very pleased with this event."
For over 35 years, MaintenX has been providing superior reactive and preventative maintenance service to restaurant facility managers. Whether a restaurant needs regularly scheduled HVAC maintenance to keep their indoor temperature comfortable or if they need an emergency delivery of a refrigerated trailer truck to store perishables after an unexpected power outage, MaintenX technicians are ready and able to help.
To learn more about MaintenX and the services they provide, visit http://www.maintenx.com.
ABOUT MAINTENX INTERNATIONAL:
MaintenX International is a fully licensed, facilities repair company. As one of the largest national self-performing facility maintenance and repair companies in the U.S., MaintenX has created a wide network of knowledgeable and professional technicians throughout the country. With their team of well-trained technicians, MaintenX self-performs and manages facility maintenance for their clients. In the event there is not a MaintenX technician in an area, the company has established a network of preferred vendor partners throughout the country for continued superior service for their clients. For over 35 years, MaintenX has been expertly serving multi-location retail stores, restaurant chains and Fortune 500 companies nationwide.