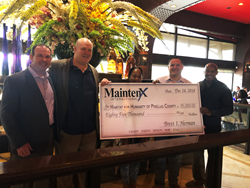 Homes are where memories are made. MaintenX is excited to help make it possible for the Woodards to have a house of their own.
TAMPA, Fla. (PRWEB) December 17, 2018
During this season of giving, MaintenX International announced their 2019 sponsorship of a Habitat for Humanity home. The $85,000 sponsorship allows the Woodards, a local Pinellas County family, to become home owners in Largo, Fla.
"Homeownership is not just about the physical house," said Bill Schaphorst, MaintenX's VP of Business Development. "It's the opportunity for families to feel safe, to have a space of their own. Homes are where memories are made. We are excited to help make it possible for the Woodards to have a house of their own."
Latrivette Woodard is a hardworking single mother of three. She also helps care for her two young grandchildren. Having made multiple moves due to undesirable conditions and rising rents, the Woodards are excited to have a place to gather as a family – a place they can call their home.
"I am building because I now have the strength and the power to accomplish a goal that I never dreamed of accomplishing: owning my own home," Latrivette said.
Each day, MaintenX provides superior maintenance services from coast to coast. This experience is sure to help make assisting with home construction a breeze.
As part of the Habitat for Humanity Homeownership program, Latrivette will be asked to complete 450 on-site 'sweat-equity' hours, 16 homeownership classes and save $1,000 for a down payment. After she completes these requirements, Latrivette will be able to purchase her home with a zero-interest mortgage.
Groundbreaking will begin in January. MaintenX volunteers will begin completing their 200 volunteer hours in March and the Woodard's home should be ready by May.
For more than 35 years, MaintenX has been involved with and caring for the local community. To learn more about MaintenX and the services they provide, visit http://www.maintenx.com.
ABOUT MAINTENX INTERNATIONAL:
MaintenX International is a fully licensed, facilities repair company. As one of the largest national self-performing facility maintenance and repair companies in the U.S., MaintenX has created a wide network of knowledgeable and professional technicians throughout the country. With their team of well-trained technicians, MaintenX self-performs and manages facility maintenance for their clients. In the event there is not a MaintenX technician in an area, the company has established a network of preferred vendor partners throughout the country for continued superior service for their clients. For more than 35 years, MaintenX has been expertly serving multi-location retail stores, restaurant chains and Fortune 500 companies nationwide.