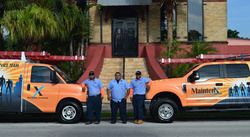 Cooler weather and decreased rain chances make fall months ideal for roof inspection and repair.
TAMPA, Fla. (PRWEB) October 29, 2018
MaintenX International wants facility managers to take advantage of fall months to have preventative roof inspections and repairs completed before winter weather arrives. MaintenX's newly formed Roofing Division is ready to help facility managers prepare their roof for whatever weather the season brings.
"The benefit of a full-service roofing provider like MaintenX is that our team can handle any problem, large or small," said Bill Schaphorst, MaintenX's VP of Business Development. "Our technicians identify problems and have the skills to fix them – whether it's a simple shingle issue or the need for a completely new roof."
Since most facility managers are not on the roof looking for damage on a regular basis, it can be easy for wear and tear to go unnoticed. MaintenX technicians are trained to inspect roofs for small issues that can lead to big problems if left unaddressed.
Particularly during fall, it's important to make sure that roofs are in top shape. Cooler weather and decreased rain chances make fall months ideal for roof inspection and repair. Additionally, fall repairs prepare roofs for harsh winter hazards like the weight of snow, the expansion of freezing water, and outdoor critters that may try to crawl toward the warmth indoors.
The MaintenX Roofing Division is committed to excellence, and the division's leadership has more than 80 combined years of commercial roofing experience. But even with that extensive experience, MaintenX knows the importance of staying on top of the latest industry trends and techniques. That is why MaintenX is an active member of both the National Roofing Contractors Association and the Florida Roofing and Sheet Metal Contractors Association.
MaintenX has provided exceptional preventative and reactive maintenance services for decades, and they are proud to offer a wide variety of dedicated roofing services to facilities across Florida. For more information about the MaintenX Roofing Division, visit http://MaintenX.com/roofing.
ABOUT MAINTENX INTERNATIONAL:
MaintenX International is a fully-licensed, facilities repair company. They are one of the largest national self-performing facility maintenance and repair companies in the U.S. MaintenX has created a network of knowledgeable and professional technicians throughout the country. With their team of well-trained technicians, MaintenX self-performs and manages facility maintenance for clients. In the event there is not a MaintenX technician in the area, the company has fostered a network of preferred vendor partners throughout the country to provide superior service for their clients. For more than 35 years, MaintenX has been expertly serving multi-location retail stores, restaurant chains, and Fortune 500 companies nationwide. Learn more at http://www.MaintenX.com.