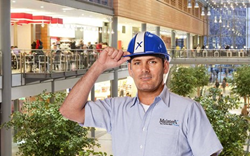 Every member of the MaintenX team believes in the importance of building positive, lasting relationships with our customers.
TAMPA, Fla. (PRWEB) October 12, 2018
MaintenX believes in providing the best customer service to clients every week of the year. That's why MaintenX clients enjoy benefits like tickets to root on MaintenX Headquarters' home team, the Tampa Bay Buccaneers, as well as dedicated service technicians and an automated work order inception center.
"Every member of the MaintenX team believes in the importance of building positive, lasting relationships with our customers," said Bill Schaphorst, MaintenX's VP of Business Development. "This is the third season that MaintenX has enjoyed rooting for the Bucs with our clients. We consider it a total touchdown moment when we make a client happy."
Clients also score big with MaintenX's ever-growing team of skilled technicians. Clients can rest assured that there's a MaintenX team member ready to assess, repair or replace any facility issue, large or small. From standard services like electrical, roofing and plumbing to unique needs like storm preparation, generator power provision or water diversion services, MaintenX is ready to help.
Clients also save time and frustration because of MaintenX's work order inception center. The center is not a call center; instead, the center tracks vital customer information, allowing MaintenX to rapidly know important details like store locations, operating hours, primary contact information, service history and preferences.
"The Work Order Inception Center allows MaintenX to provide a superior level of customer service on each work order call. As relationships grow, MaintenX customers can rest easy that work will not be duplicated, protocol will be followed, and their satisfaction is guaranteed," said Schaphorst.
For more information about MaintenX, visit http://www.maintenx.com.
ABOUT MAINTENX INTERNATIONAL:
MaintenX International is a fully-licensed, facilities repair company. They are one of the largest national self-performing facility maintenance and repair companies in the U.S. MaintenX has created a network of knowledgeable and professional technicians throughout the country. With their team of well-trained technicians, MaintenX self-performs and manages facility maintenance for clients. In the event there is not a MaintenX technician in the area, the company has fostered a network of preferred vendor partners throughout the country to provide superior service for their clients. For more than 35 years, MaintenX has been expertly serving multi-location retail stores, restaurant chains, and Fortune 500 companies nationwide.