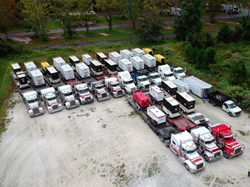 Our team is very proud we were able to arrive right after the storm and allow Panhandle businesses to get up and running to serve their communities.
TAMPA, Fla. (PRWEB) October 17, 2018
Hurricane Michael crashed into the Florida panhandle last week, leaving destruction in its path. MaintenX technicians were ready to help local businesses as soon as the storm passed. MaintenX emergency services provided commercial generator power to 35 pharmacies, two full-size grocery stores, one restaurant, one discount clothing store and two industrial distributors.
When communities experience wide-scale damage, as many in Florida, Georgia and Alabama have, power restoration is critical to ensuring the health and wellness of residents. Particularly important are facilities like pharmacies and grocery stores, which are needed to provide food and medicine to residents as they begin to rebuild. Additionally, keeping restaurants and local businesses powered helps provide a touch of normalcy to communities and the local economy.
"Our team is very proud we were able to arrive right after the storm and allow Panhandle businesses to get up and running to serve their communities," said Bill Schaphorst, MaintenX's VP of Business Development. "Allowing the local citizens to get their lives back to normal as soon as possible very much energizes our teams."
Hurricane Michael is one of the strongest hurricanes to make landfall in U.S. history, and the worst storm to hit U.S. shores since Hurricane Camille, which barreled into Mississippi nearly fifty years ago. The storm grew from a tropical depression to only a few miles per hour short of a Category 5 hurricane in a matter of days. With six weeks still left in this year's hurricane season, MaintenX is ready to help businesses face any storm that still may come.
MaintenX can provide a number of emergency maintenance services to help businesses prepare for or recover from extreme weather events like hurricanes. With more than 35 years of experience, MaintenX understands that emergency services are critical to helping facilities maintain business continuity. Additionally, MaintenX is one of the largest maintenance providers in the nation, so businesses coast to coast can benefit from their superior emergency response and recovery services.
To learn more about MaintenX and how they can help your business power through any disaster, visit http://www.maintenx.com.
ABOUT MAINTENX INTERNATIONAL:
MaintenX International is a fully-licensed, facilities repair company. They are one of the largest national self-performing facility maintenance and repair companies in the U.S. MaintenX has created a network of knowledgeable and professional technicians throughout the country. With their team of well-trained technicians, MaintenX self-performs and manages facility maintenance for clients. In the event there is not a MaintenX technician in the area, the company has fostered a network of preferred vendor partners throughout the country to provide superior service for their clients. For more than 35 years, MaintenX has been expertly serving multi-location retail stores, restaurant chains, and Fortune 500 companies nationwide.