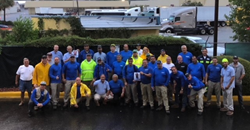 Our technicians are ready to help before, during and after a major storm to make sure facilities are safe and secure.
TAMPA, Fla. (PRWEB) September 20, 2018
Hurricane Florence hit the Carolina coast on Friday, causing billions of dollars in damage and sending pounding rains and roaring winds across the southeast. In preparation for the hurricane and its impact, MaintenX technicians traveled to North and South Carolina to help businesses board up windows, arrange sandbags and ready properties for the storm.
Now that the storm has passed, MaintenX technicians will continue to provide local businesses with power generation, water diversion, refrigeration trailers and other emergency maintenance services. MaintenX technicians have received requests to help over 500 facilities in the path of Hurricane Florence.
"Hurricanes can impact facilities in a number of ways. High winds, flying debris, power outages, floodwaters, heavy rains – these can all cause damage to buildings and property," said Bill Schaphorst, MaintenX's VP of Business Development. "That's why our technicians are ready to help before, during and after a major storm to make sure facilities are safe and secure."
Hurricane Florence was the first major Atlantic hurricane to make landfall in the U.S. in the 2018 season. Due to the size and intensity of the storm, nearly 900,000 people lost power and over 30 inches of rain fell in places along the Carolina coast. With two months left in the hurricane season, MaintenX is ready to help businesses face whatever comes next.
Skilled technicians are able to provide a number of emergency maintenance services. With more than 35 years of experience, MaintenX understands how critical their services are to helping facilities maintain business continuity. Additionally, MaintenX is one of the largest maintenance providers in the nation, ensuring businesses from coast to coast can benefit from their superior emergency response and recovery services.
To learn more about MaintenX and the ways they can help your business weather any storm, visit http://www.maintenx.com.
ABOUT MAINTENX INTERNATIONAL:
MaintenX International is a fully-licensed, facilities repair company. They are one of the largest national self-performing facility maintenance and repair companies in the U.S. MaintenX has created a network of knowledgeable and professional technicians throughout the country. With their team of well-trained technicians, MaintenX self-performs and manages facility maintenance for clients. In the event there is not a MaintenX technician in the area, the company has fostered a network of preferred vendor partners throughout the country to provide superior service for their clients. For more than 35 years, MaintenX has been expertly serving multi-location retail stores, restaurant chains, and Fortune 500 companies nationwide.