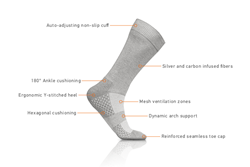 Not resting with their success, Maison Impeccable is also preparing to release no-show socks that are under the radar and perfect for warm weather wear with loafers or boat shoes. Pricing and pattern details for these no-show socks will be available soon
Los Angeles, CA (PRWEB) April 18, 2016
Since launching their Kickstarter campaign last month, Maison Impeccable has soared past their initial $10K goal, and to date, has secured over $110K in funding from over 1600 dedicated backers. MI's Stealth Socks may look ordinary to the untrained eye, but they're designed with the latest technology to improve comfort and eliminate the odor and moisture of everyday wear.
Since the startup has officially reached the $100K mark, Maison Impeccable is releasing the much anticipated follow-up to their everyday socks, the Stealth Sock Recon - ankle-cut athletic socks suited for the casual jogger or the Crossfit fanatic.
"We were thrilled about the initial interest in our campaign, but we're absolutely blown away by the support we've seen thus far," said founder and former business consultant Ben Yelian. "Our backers have been amazing, and also extremely open about what else they need besides our classic socks - our stretch goals are designed to meet those needs."
Not resting with their success, Maison Impeccable is also preparing to release no-show socks that are under the radar and perfect for warm weather wear with loafers or boat shoes. Pricing and pattern details for these no-show socks will be available soon.
Backers can pre-order the newly released versions as well as the original Stealth Socks, but time is running out - Maison Impeccable's Kickstarter campaign ends on April 29th. For more information, visit the campaign page at http://bit.ly/StealthSocksKS.
ABOUT MAISON IMPECCABLE
Maison Impeccable is a startup dedicated to evolving garments and how we interact with them. By analyzing clothing equally through the lenses of utility and aesthetics, they seek to engineer pieces that offer uncompromising performance across all use cases. Building upon the belief that each individual is the hero of their own life, their goal is to keep wearers outfitted for the day's missions, wherever they may lead. For more information, visit http://www.impeccable.maison.