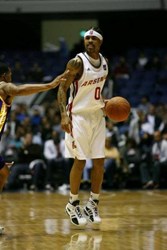 Orlando, Florida (PRWEB) July 31, 2013
Basketball was in the air Tuesday night as fans packed into the Downtown Orlando Recreational Center to watch NBA players Chandler Parsons, Courtney Lee and Former And1 star Majic Dorsey. The talented players didn't waste any time getting to work as Courtney Lee and Chandler Parsons came out attacking with a barrage of three pointers along with some impressive drives to the basket.
The dynamic duo of Chandler Parsons and Courtney Lee proved to be too much in the first half as they began to inch away. By the half, their team had built a 20+ point lead leaving the other team quite the task in the 2nd half.
This didn't slow down overseas guard Majic Dorsey from opening the 2nd half on a mission to bring his team back. He went on a scoring spree and showed off his vast array of talent in front of the packed house. Majic hit back-to-back three pointers along with some critical fast break points which helped bring his team, B. Rich Inc., back within a point of the lead.
Majic and his team didn't slow down as they came back from a 20+ point deficit and took control of the lead. The game came down to the final minutes, but the NBA stars proved to be too much in the end as Parsons hit some big jumpers along with Celtics guard Courtney Lee to help give 3 Stripes the win.
The talk of the game was Majic Dorsey as he scored 46 points. Chandler Parsons finished the game with 34 points and not far behind him was Courtney Lee who put in 31 points.
Talking with Majic after the game, he recently launched his official website, http://majicdorsey.com/. His new interactive site also allows fans to watch video highlights, view memorable photos of his career as well as the ability for companies to book Majic for corporate appearances, autograph signings, VIP Meet & Greets and product endorsement deals.
About Anthony Fernandez:
Anthony helps professional athletes establish an internet presence along with a recognizable brand through his diligent and well-thought out marketing and public relations efforts. Anthony has teamed up with Athlete Speakers Bureau AthletePromotions.com to handle all his clients' corporate appearances, autograph signings, VIP Meet & Greets and product endorsement deals. To learn more, Call Anthony at 850-543-6119.