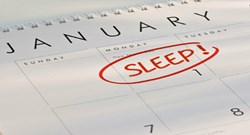 Kansas City, MO (PRWEB) January 04, 2014
Sleep continues as the subject of numerous studies and public health programs, because it proves essential for health and well-being and because many Americans are not getting enough. As many people gear up to tackle New Year's resolutions this January, Bed Ed, a blog on mattress and sleep topics, places getting more rest at the top of the list based on the wide range of benefits provided.
In the article, "Why Your New Year's Resolution Should Be to Sleep More", Bed Ed highlights ten of the most important reasons to focus on rest this year based on scientific research and studies. The blog also offers a quick list of sleep hygiene tips for readers ready to get started.
Many people's resolutions focus on losing weight, looking better, or getting healthier, and all of these goals have tie-ins to sleep which is why Bed Ed touts rest as the resolution with the most impact. Though rest affects dozens of physical and mental functions, the article highlights ten benefits most likely to resonate with readers, which include looking better and preventing skin aging, making healthier food choices, and maintaining a healthier weight.
In addition to physical benefits, Bed Ed also demonstrates how rest relates to memory retention and creativity. And for those looking for a healthier new year, sleep also has been shown to affect the body's inflammation response, immunity, lifespan and drivers' safety on the road. With each point, the article includes relevant supporting studies and statistics for curious readers.
The post closes with few ways to start sleeping better, including getting active, getting sunlight daily, setting a schedule and making gradual changes, eliminating lights at night, and keeping cool with fans or choosing cooler mattress types if heat is an issue.
For readers still seeking a new goal for 2014 or who simply want to feel and look healthier, the article offers compelling reasons to emphasize sleep in one's daily routine. BedEd.org also features several articles on choosing a mattress, brand comparisons, and other sleep related information.
BedEd.org is a mattress education blog dedicated to providing informational resources to shoppers. The blog features impartial assessments of mattress types, brands, and other sleep related products, developed via first party research, third party reviews, and expert research and opinion. In addition, readers receive useful sleep quality tips and news on the latest mattress developments.