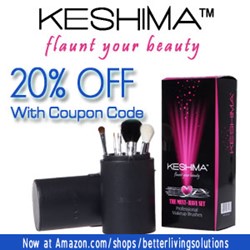 Many people will spend a fortune on makeup – lipsticks, eye shadows, mascara, foundation – to try to replicate a look they've seen in magazines and are disappointed when they fall short
Las Vegas, NV (PRWEB) December 13, 2013
Keshima, a new premium beauty brand, is officially launching with the release of its premier product – The Must Have Set of makeup brushes. Just in time for the holiday gift giving season, The Must Have Set includes the five essential brushes needed to achieve any look and a large brush holder. In celebration of its launch, the set is on sale on Amazon for 29.95 and for a limited time, shoppers can use the coupon code KESH9587 during checkout for an additional 20 percent discount off the sale price.
The Must Have Set is a complete makeup brush set that comes with five top quality brushes and an elegant makeup brush holder. The holder will keep the set in pristine condition and is large enough to hold many more brushes as well. The brushes are all professional grade and the set includes an angled blush brush, an eyeliner brush, a powder brush, an eye shadow brush and a blending brush.
The Must Have Set are the perfect beauty tools to artfully create the latest looks in makeup, from angled cat-eye liners and vivid eye shadows to brightly tinted lips and glowing skin with a subtle sheen – all trending for Spring 2014.
"Many people will spend a fortune on makeup – lipsticks, eye shadows, mascara, foundation – to try to replicate a look they've seen in magazines and are disappointed when they fall short," said Myriam Maon, Keshima co-founder. "But what they might not realize is that it's not just the makeup. It takes the right tools to get the best results. The Must Have Set lets you apply makeup like a professional so the result is exactly what you were going for."
Keshima professional makeup brushes are made from a combination of natural animal hair and synthetic hair. For each brush type, Keshima has chosen the best suited and highest quality bristle materials – soft, yet dense, comfortable on the face and non-irritating. Each brush undergoes a seven step process during manufacture to prevent shedding and ensure that with the right care it will last a lifetime.
All Keshima makeup brushes come with a 90 day full money back guarantee to ensure customer satisfaction. They are available for purchase on Amazon and at KeshimaBeauty.com. Amazon shoppers can use the coupon code KESH9587 during checkout for an additional 20 percent discount off the sale price.
About Keshima
Keshima is a new premium makeup brand by Better Living Solutions, a trusted company in business since 2007. Better Living Solutions is dedicated to creating products that will help people improve the quality of their life, and uses only carefully chosen, high quality materials for all of its lines. All Keshima products are subject to rigorous quality control standards and guaranteed to ensure customer satisfaction. For more information about Keshima or to purchase The Must Have Set, visit: http://www.amazon.com/MUST-HAVE-Brushes-KESHIMA-trade-Premium/dp/B00FPKSJDA.