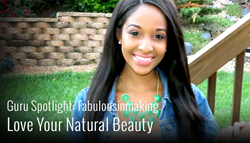 After seeing multiple girls on Tumblr, Instagram and all of the other social networks out there, I felt like the definition of natural beauty had been turned into something it isn't suppose to be.
new york, ny (PRWEB) September 30, 2014
Kennedy saw that the over-stylized and over-photoshopped images of 'perfect' women were starting to tarnish what society's definition of real beauty was, so she took a stand and created her own platform. She realized that if more girls understood that their individual beauty was just as special as that of a made-up model, maybe they would appreciate their own natural beauty more. "It's all about getting the word out!" Kennedy says in her exclusive interview with IWantThatLook.com. Her 'No Makeup' makeup tutorial encourages girls to accentuate their features instead of hiding them. With her more colorful makeup tutorials, Kennedy also proves that loving makeup doesn't mean that you don't love your natural beauty.
Kennedy has created her own #TeamFab to spread the gospel of self-love and real natural beauty. Through her use of social media Kennedy shines and is a much needed voice in the teen world. She has a special combination of beauty, charisma and leadership that makes it obvious that she is destined for greatness both on youtube and beyond!