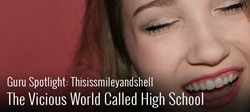 "While blush does a great job of giving you a nice glow, I prefer the natural glow created by joy and contentment" -
new york (PRWEB) October 01, 2014
Michelle of ThisisSmileyandshell is one of the most well rounded beauty gurus on YouTube. The "Mean Girl" phenomena and bullying is widely accepted as one of the biggest problems in high schools today. In this exclusive interview, IWantThatlook.com talks to Michelle about the "vicious world called high school" and the materialistic nature of teens in today's society.
Michelle handles high school, being on a competitive dance team, and running a successful vlog with such energy and grace! She not only makes amazing makeup tutorials, but also shares share fun details about her life, whether it's chatting about boys, teenage slang with her grandparents, or serious reflections on the difficulties of being a teenager.
Her multi-tasking and time management skills are surely to be envied, but what's most impressive about Michelle is that she knows the value of self-love. "While blush does a great job of giving you a nice glow, I prefer the natural glow created by joy and contentment." When talking about beauty and her inspirations, Michelle goes beyond her years by quoting the ever beautiful Audrey Hepburn in saying that, "The happiest girls are the prettiest girls."