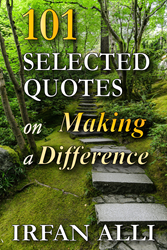 In '101 Selected Quotes on Making a Difference' Irfan Alli shares insights from those who have made a difference.
Toronto, Canada (PRWEB) March 11, 2015
The difference between wanting to make a difference and actually doing something about it, lies in action. But how does one proceed? Where does one get advice? In '101 Selected Quotes on Making a Difference' published by eBookIt.com, Irfan Alli shares insights from those who have made a difference.
Some started locally: in their neighborhood, city or country. Others focused on helping causes and people in other countries.
With the internet, the ways to make a difference are endless and even people who do not wish to leave their comfort zones or do something physical can still find ways to have an impact.
The various quotes highlight how individual contributions can accumulate to significant change.
In '101 Selected Quotes on Making a Difference' by Irfan Alli the reader will learn:
1. How to make a difference.
2. The purpose of life.
3. Why they should fly cheap.
4. What loyalty is.
5. The best way to find themselves.
6. Which to focus on – money or purpose?
7. The three people who really make a difference.
8. The difference between making a living and a life.
9. The most powerful weapon that can be used to change the world.
10. The seven deadly sins to avoid.
11. The connection between changing oneself and changing the world.
12. Who has the right to criticize.
Among the 101 quotes:
"Anyone can make a difference, so you don't have to have it be some huge, global campaign... you can start small, and that's just as important." (Blake Mycoskie)
"It is the greatest of all mistakes to do nothing because you can only do little - do what you can." (Sydney Smith)
"Thousands of candles can be lighted from a single candle, and the life of the candle will not be shortened. Happiness never decreases by being shared." (Buddha)
For more information consult '101 Selected Quotes on Making a Difference' by Irfan Alli.
The eBook is available at eBookIt.com and can also be found on Amazon, Kobo, iTunes, Barnes and Noble, Ingram Digital, diesel-ebooks.com, Reader Store (Sony) and many others. It is available in various delivery formats.
About the Author:
Irfan Alli is the author of:
1. 101 Selected Sayings of Buddha
2. What are Angels?
3. 101 Selected Sayings of Prophet Muhammad (peace be upon him)
4. Family Makeovers
5. 101 Selected Sayings of Mahatma Gandhi
6. How to Get the Most Out of School – A Practical Guide for Students and Parents
7. 25 Prophets of Islam
8. 201 Motivational Quotes from Around the World
9. Spouse Trap – Over 200 Questions to Ask Before Saying 'I do'
10. What Happens After We Die?
11. Condominiums and Townhouses – What You Need to Know Before and After Buying
12. Life, Death and The Hereafter
His volunteer efforts, professional work and recreational activities have taken him all across Canada, the U.S., Brazil, Hong Kong, Indonesia, South Korea, Japan, Guyana, Pakistan, India, Jordan, Saudi Arabia, China and Turkey. What he has learned from his travels is reflected in his writing. Irfan lives in Toronto, Canada with his wife, four children, and a growing number of grandchildren. His website is http://www.irfanalli.com
About eBookIt.com
Since 2010, eBookIt.com (based in Sudbury, Massachusetts) has helped thousands of authors and publishers get their books converted to ebook format, and distributed to all the major ebook retailers, including Amazon.com, Barnesandnoble.com, Apple iBookstore, Kobo, Sony Readerstore, Ingram Digital, and Google eBookstore.
###