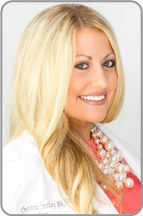 Skincare products that do double duty – supporting skin health and boosting looks during a workout – shouldn't come as a surprise.
ALBERTSON, N.Y. (PRWEB) December 19, 2018
After years of providing successful leadership on the soccer field, the star athletes of Sweat Cosmetics – including an Olympian and two pros – tackled a stubborn off-field problem: They formed a company and launched their first product, a 2-in-1 foundation and sunscreen that could provide protection, look good, and last through the game. "With Sweat, these athletes took action to meet their lifestyle needs," notes Christina Smitley, a board-certified family nurse practitioner who specializes in dermatology with Advanced Dermatology PC, "and they correctly predicted that there were a lot more athletic women like them: busy, active – and looking for healthy beauty options."
Skincare products that do double duty – supporting skin health and boosting looks during a workout – shouldn't come as a surprise. They're the latest in the tsunami of athleisure goods that have flooded the market since 1998, when Canada's Chip Wilson opened his first Lululemon store in Vancouver – and paparazzi photos began to feature celebs showing off their shapes in yoga pants.
"There's been a convergence of trends," observes Smitley, "including fitness- and fashion-focused millennials, as well as the desire to post pics of our daily lives. Working out is no longer private or anonymous. And for some, being able to take steps to look good during their workout can provide key motivation."
But looking good while sweating poses a challenge for our skin. "Traditionally, dermatologists have advised removing all makeup before exercise," states Smitley. "Makeup can exacerbate the presence of sweat, oil, and bacteria, causing clogged pores, which trigger acne."
Since 2015, when their SPF 30 mineral foundation was released, the Sweat crew has been joined by a who's who of cosmetics, including Clinique, Tarte, e.l.f., and mega-retailer Sephora, which specifically offers products under lineups that include "Workout Makeup" and "Gym Essentials."
"Fortunately," notes Smitley, "today we don't have to choose between treating our skin well or looking good. However, it's important that we understand the fundamentals of how beauty products can enhance our workout."
While Smitley stresses the "less is more" adage, and prefers no makeup for workouts, she does have tips for those still looking to incorporate cosmetic products into their trip to the gym:
5 Tips Regarding Beauty Products for When We Exercise:
1. Let your pores breathe, too: "The 'breathe' mantra is also essential for our skin," emphasizes Smitley. "Any product we use must be 'non-comedogenic,' which means it is non-clogging. It should also be oil-free. And mineral ingredients in powder form, such as silica, titanium dioxide and zinc oxide, can help subdue redness and absorb oil." To avoid breakouts, she suggests using less product, even the non-comedogenic ones.
2. Make the most of your sunscreen: "Products like Sweat Cosmetic's 2-in-1 sunscreen and foundation can be win-win," observes Smitley. "We need sunscreen. For those who want foundation coverage, adding in tint can be a value-add, if the company has focused on skin-supportive ingredients."
3. Target your application: "Some of today's active-wear makeup isn't new," states Smitley. "It's just been re-marketed. Take eye enhancers like 'sweatproof' mascaras, liners, and brow products. Likewise, lip wear. This re-marketing underscores the reality that these products, in particular, can be used during exercise without posing a problem for our skin." She advises to be careful as eye makeup can prove to be irritating as it mixes with sweat.
4. Cleanse smart: "Exercise is sweaty," says Smitley. "Even with non-clogging beauty products, we need to cleanse to keep our pores happy. We should have a clean towel handy for sweat while we work out. And post-workout cleansing is a must: If we're really on the go, the latest products include cleansing wipes."
5. Be gentle: "Exercise can be good for our skin, releasing debris from below the surface and enhancing blood flow," explains Smitley. "But we also need to make sure that we treat our skin carefully: sweat should be blotted gently, not wiped. Cleansers should be gentle – and no scrubbing allowed! Finally, moisturizing is a must."
"The awareness of carefully choosing skin products, including cosmetics," concludes Smitley, "will ultimately help keep our skin healthy both in and out of the gym."
Bio: Christina Smitley, FNP-C, a family nurse practitioner with Advanced Dermatology pc, is board-certified through the American Academy of Nurse Practitioners.
Advanced Dermatology P.C. and the Center for Laser and Cosmetic Surgery (New York & New Jersey) is one of the leading dermatology centers in the nation, offering highly experienced physicians in the fields of cosmetic and laser dermatology as well as plastic surgery and state-of-the-art medical technologies. http://www.advanceddermatologypc.com.