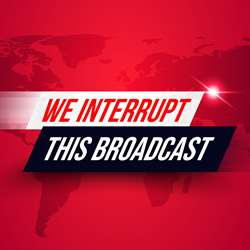 '…Everybody who went down to that scene…went knowing that their own life was in peril. …Everybody forgot about any type of danger they were in and they just became reporters…they told the story…that needed to be told.' – John Montone, 1010WINS
NEW YORK (PRWEB) September 02, 2021
The attacks of September 11, 2001, claimed 3,000 lives and left behind an estimated 25,000 injured. Two wars were launched in the name of the attacks of that day – in Iraq and Afghanistan (the latter of which is still in the news today).
Americans from all walks of life were scarred by what happened. And just as the death toll continues to mount for those exposed to the air around ground zero in New York -- the indelible memories from that day live on in the journalists who chronicled the single worst day in modern American history.
Those memories are shared in "9-11: America Under Attack," the emotionally gripping episode from the new 12-episode podcast series, We Interrupt This Broadcast, hosted by legendary broadcaster Bill Kurtis and narrated by NBC's Brian Williams.
Reporters and anchors from CNN, NBC, CBS, FOX, ABC, 1010WINS and WOR New York radio and more discuss their personal and intimate experience of reporting on 9/11:

Aaron Brown, CNN: "My emotions in the moment precluded me from saying the sentence, 'The United States of America is under attack.' It's a very hard sentence to speak. And anyone who thinks it's easy should try it in front of a billion people…and it was in my head. And it was trying to get to my tongue and somewhere in that path lies your heart. And I think my heart was not letting me say that my country was under attack."
John Montone, 1010 WINS: "Everybody who went down to that scene… went knowing that their own life was in peril. …Everybody forgot about any type of danger they were in and they just became reporters…they told the story, the story that needed to be told."
Mara Rubin, WOR Radio: "I walked outside and literally I walked into like a gaggle of the mayor, the fire commissioner, the police commissioner, and…I was like, you know what, I'm staying with them. If anybody in this world knows where to go to be safe, these people do so. But the thing is, they didn't know."
Brian Kilmeade, FOX News: "A guy…was screaming on the phone and [said], 'they just hit the Pentagon' and I go, 'No, I just listened to the radio and I'm with Fox news. They didn't hit the Pentagon.' He goes, 'I'm on with the Pentagon. They just hit the Pentagon.' He kind of yelled at me and I go, 'Wow. No question, we're under attack.' …[After trying to drive downtown and being told it's too dangerous,] we finally ditched the car and we walked maybe 25 blocks. It looked like we were on the moon. You could not see any of the pavement. It was so much dust…so many papers and shoes everywhere."
Beth O'Connell, NBC News: "I got HR to come into the control room and I had everybody gather around and I said, clearly, we're going to be on the air for a very long time. We want you to do whatever you feel is the most important thing for you to do."
Shelley Ross, ABC News: "You look around the newsroom and see who got a phone call that someone they knew was missing. …I decided that the best I could do was go over to them, get them up out of the office. And I walked people around the block."
David Bohrman, CNN: "Once the initial story stopped and it began to be a piece of history…It's as close as I'll get to PTSD. It took me 15 years to be able to actually go to ground zero."
Marcy McGinnis, CBS News: "We came together as a team. People stepped up, in the face of fear, in the face of anxiety. In the face of worrying about their own personal family members who might have been affected. It was truly one of our finest hours."
Ari Fleisher, White House Press Secretary: "What was amazing too about that day though was, in 2001, there was no satellite TV aboard Air Force One. We literally could watch the breaking story…only when air force one flew over a ground-based antenna that had sufficient reach…We would fly and have static and then a signal would be clear. And we could see what the American people were seeing…hear what [they] were hearing. And of course, at a breaking moment like that, the media…has so many reporters and cameras and the ability to tell a story, that sometimes it's better than the government's ability to get information."
The podcast, based on Joe Garner's New York Times Bestselling book of the same name, celebrates the crucial role broadcast journalism has played throughout our nation's history. Each episode unfolds with the brisk pace and tone of a thriller while presenting an in-depth look into the reporting of, and reaction to, events that have since become benchmarks in history. The contributors are a "Who's who" in broadcast journalism.
The docuseries, produced by i4 Media Ventures, LLC, will be presented over six 12-episode seasons for a total of 72 episodes. Each season is comprised of 12 episodes, all published simultaneously: 10 episodes in each season are based on events that occurred in the broadcast era and two are based on seminal moments that occurred in early American history (such as the passing of the 19th Amendment) and dramatized as if reported by broadcast journalists. Each episode concludes with the journalists offering candid and critical analysis on how they and their fellow reporters covered the event.
"We Interrupt This Broadcast" is now available for download on Apple Podcasts, Stitcher, Spotify, Google Play and wherever listeners get their podcasts.
"We Interrupt This Broadcast" is being represented for ad and sponsorship sales by New York and Los Angeles-based Crossover Media Group Sales (http://www.crossovermediagroup.com).
About Joe Garner
Dubbed "the Ken Burns of the written and recorded word" by talk legend Larry King, Joe Garner is a veteran radio industry executive, narrator, host and producer, as well as a multiple New York Times bestselling author. His seminal multimedia book, We Interrupt This Broadcast, innovatively pairing audio, photographs and text, has sold more than one million copies and has for two decades served as a go-to chronicle of America's broadcast history. The "We Interrupt This Broadcast" docuseries podcast is the maiden project of i4 Media Ventures, LLC, co-founded in December 2020 by Garner, Ron Hartenbaum and Scott Calka.
Editor's Note (Assets available upon request):
Interviews with Joe Garner, Bill Kurtis and each of the contributors
A link to an online press kit, with a downloadable version of the "America Under Attack" episode and other audio-visual assets.