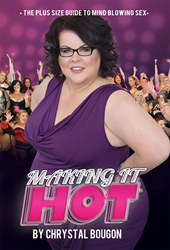 All day long, at my boutique and on my social media pages, we talk about fat bodies having sex. I know it's not trendy to talk about fat people having sex, but I am here to tell you - we have A LOT of sex!
San Jose, CA (PRWEB) February 10, 2016
Chrystal Bougon releases Making It Hot: Sex Tips From The Curvy Girl Playbook through ChickLit Media Group. The noted size acceptance advocate, "Sex Toy Sherpa," and owner of Curvy Girl Lingerie, shares her advice on how plus size men and women can have the most satisfying intimate life possible.
"I am so excited to be able to finally offer my book to my customers and my social media fans," says Bougon. "All day long, at my boutique and on my social media pages, we talk about fat bodies getting busy. I know it's not trendy to talk about fat people having intercourse, but I am here to tell you - we have a lot of it! I love educating and helping people of all sizes to have more connected and amazing love. Life is way too short for ugly underwear, and too short for boring sex."
"This book shares the secrets of having a hot and satisfying personal life as a Curvy Girl," reads the book description. "This book is all about having hot s..! People and bodies are different, so being open and honest with your partner about what feels good, and what you want, is the secret to a more connected and satisfying intimate life for both of you. It's never just one thing, so learning to combine approaches and techniques will make everything more pleasurable for Curvy Girls and their partners. Not after you lose 10 pounds; not when you start running every day; not when the stretch marks fade. Right now."
Of the book, Jes Baker, author and owner of The Militant Baker, says, "Fat girls have hot sex with the lights on too! Here's how!" "Plus Life™" Executive Producer Adryenn Ashley adds, "[There are] lots of hidden secrets in this book to give you a better 'O'. Written in that girlfriend-who's-got-your-back-and-answers in a way that only Chrystal can, she covers intimate topics in a non-scary way, that makes it seem oh do doable."
Making It Hot: Sex Tips From the Curvy Girl Playbook is available in both e-book and paperback formats and editions on Amazon.
Curvy Girl Lingerie, located in San Jose, CA and run by Bougon, is the first and only brick and mortar lingerie store in the United States west of the Mississippi for plus-size women. With a "Sexy Isn't a Size" motto, the popular store carries items in sizes 12-6x. Bougon created Curvy Girl because she believes that all women deserve a safe place to shop, without judgment, where they can find sexy lingerie and panties that fit well and make them feel pretty and sexy. The store is the basis for "Plus Life™," a reality show unlike anything before it — an uninhibited, body-positive, sex-positive, and highly purposeful endeavor to show a side of plus-size people rarely acknowledged in public – slated to air this year.
About Chrystal Bougon:
Chrystal Bougon, owner of Curvy Girl Lingerie in San Jose, is also a Silicon Valley High tech-refugee and sex toy expert, who loves writing about sex, relationships, and fat girl sex. Bougon opened the first-ever plus size retail lingerie store west of the Mississippi in the United States in October 2012. A public advocate for size acceptance, the "Sex Toy Sherpa" has written essays for a multitude of websites, including "Hot Sex and The Curvy Girl" for Jes Baker's book, "Things No One Will Tell Fat Girls," as well as published the books "The Curvy Girl Playbook" and "Making It Hot: Sex Tips from The Curvy Girl Playbook." Bougon was also host of the radio show "Everyone Wants to Have Better Sex," and host of "Bliss Talks." As a radio show host, Bougon has received "Top Talker" and "Frontier Fifty" Awards from Talker Magazine, alongside conservative radio talk show hosts Dr. Laura, Rush Limbaugh, and Sean Hannity. A regular contributor to The Huffington Post and YourTango, Bougon is also host and producer of "PlusLife™", a cable reality show about life at her store, and the plus size men and women who regularly visit. For more information, visit http://CurvyGirlInc.com and http://BlissConnection.com; Bougon may also be followed on Twitter at http://twitter.com/blissconnection and on Facebook at https://www.facebook.com/ChrystalBougon.