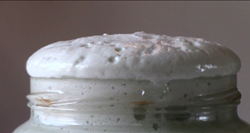 Raw yogurt is quite possibly the best food on the planet. It gives you your protein, B complex, fat, probiotics and enzymes.
Huntington Beach, CA (PRWEB) April 29, 2014
Raw yogurt is the missing link to vegetarians, vegans, and raw foodists. Raw yogurt supplies the human body of protein, B complex, fat, probiotics, and enzymes. By putting the needed probiotics back into a person's digestive tract, the body is able to digest food more easily. Since digestion is the root of all diseases and digestion is where good health starts and ends, raw yogurt is quite possibly the best food for the human body, says Conscious Counselor.
Sead Pepic, a counselor on awareness living, says, there is an easy way to make yogurt, and it tastes incredible. He uses macadamia nuts, water, and a really good probiotic. He blends those ingratiates for 20 seconds. He pours it into a jar, then after about eight hours, the yogurt is ready to eat. "That's it," says Sead, "Incredible things can be easy to do." Finding raw macadamia nuts is easy and there is no need to soak the nuts prior. The water he uses is always spring water instead of filtered as spring water comes from the earth. For a video on exactly how he does this, please click on: https://www.youtube.com/watch?v=KYMcI2RdcV8.
Another incredible yogurt that Sead makes is pistachio nut yogurt. This is the same recipe as above. Raw pistachio nuts, spring water and a probiotic that he endorses. Sead says, "If there is one thing better than macadamia nut yogurt, it is pistachio nut yogurt."
A popular raw yogurt is raw almond coconut yogurt. This is a lot of work as one must first find raw almonds. In stores, the almonds must now be pasteurized, which no longer makes them raw. So hunting for raw almonds must be done elsewhere. Once the raw almonds are found, they now must be soaked for 24 hours. This releases the enzyme inhibitors, so now the body can have access to the almond's enzymes, only after soaking them. Then get a coconut. Open the coconut, which is no small task for a beginner. Then take the meat and water out of the coconut.
Making raw almond coconut yogurt involves a lot of steps and may discourage people from continuing. Making macadamia or pistachio nut yogurt is far easier, tastes incredible, and you get the same benefits. Sead says doing something simple, comfortable, and effective gets the healthy eater to come back to it over and over again. For the full video, please click on: How to make raw yogurt.
As far as which probiotic to use, Sead strives for only the best, he has found an individual that has been a raw foodist for 41 years, looks 20 years younger than his appearance, and has healed thousands of individuals across the world by just changing their diet. And his raw yogurt is a very important aspect of his lessons. He is Lou Corona. And Lou has come up with his own brand of probiotics to mix in with the raw yogurt. For more information on this particular probiotic, please go to: http://YogurtRaw.com/
Sead says, "No matter what a person's diet is, raw yogurt will improve digestion. Elimination will be better, fuller, and more frequently. With the help of raw yogurt, undigested matter, that has been sitting in the digestive system for years, now becomes digestible. Raw yogurt along with the help of digestive enzymes can change a person's entire digestive track."
The proper diet according to Sead is: Juice in the morning, using a juicer. Then throughout the day, intake raw fruits and vegetables. Then later on, raw yogurt mixed in with a favorite fruit, vegetable, or berry. And through out the week, occasionally throw in some fresh herbs such as parsley or cilantro. And of course always have a good digestive enzyme in the kitchen cabinet. This is the key to long life and health.
As far as hunger goes, raw yogurt will make any one full fast, and satisfy any hunger. Another great and incredibly healthy way to get full fast is to throw in an avocado in a salad. Avocado is a great source of fat. And it is perfect for those that say, "Salads do not fill me up.".
Raw yogurt is a great substitute for meat. Or rather meat tries to substitute raw yogurt. The human digestive system is about 22 feet long. It takes a long time for meat to go through the human digestive system. During the long process, the meat putrefies and runs rancid. This causes fatigue and all sorts of illnesses. Are humans designed to eat meat? A real meat eater or carnivore (like a lion or tiger) has a much smaller digestive track. The meat is digested much quicker. There is no time for the meat to run rancid or putrefy. These meat eating animals have the claws to catch their pray and the teeth to rip into raw flesh. So are humans really designed to eat meat? Or is meat being consumed now because humans once needed it to survive and has now become a part of this culture?
So what is the point of all this? Sead advocates, "Stop eating meat. Stop killing ourselves. There is another way.[Raw yogurt will supply a person's protein, B complex, and fat. Raw yogurt will give more than meat will ever give."
"I believe that we can all active that perfect health. Do not do something because it's always been done that way. Do the research and feel what's right for you. Doing the research and knowing what is intuitively right will always lead you in the right direction," says Sead.
"Enjoy, and have a great life." – Sead
Sead Pepic has recently started an organization called Conscious Counselor which brings to light healthy ways for living. This is for all subject matter, whether it is food or every day life. Some of his other videos are: how food and cleanses affect the body, how to deal with your emotions, the differences between men and women, how to be happy, and more. You can look up Conscious Counselor on you tube to find these videos.
Sead Pepic
Conscious Counselor
(845) 494-0969
http://www.ConsciousCounselor.com