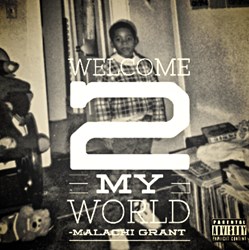 I really like it because its a mixture of the hard gritty tracks and the club tracks for everybody. There's something for everybody.
New York, NY (PRWEB) February 16, 2014
New York based hip hop artist-songwriter Malachi Grant is releasing his new album "Welcome 2 My World" on February 17, 2014. Available in all digital stores (iTunes, Amazon, Google Play, Official Website etc.) and exclusively in Black Star Music located at 352 Lenox Ave. NY, NY 10027. During the "Welcome 2 My World" listening party, the album was met with rave reviews from media and peers.
Recorded and mixed by Steve Francis of Stush Music Studios, Malachi puts together a well-balanced album showcasing different aspects of his life. The album features one emcee cameo and several vocalists. On the production front Yung Fokus of FMG, Kid Flash, Koncept Beats of Bryant Walker Productions, Mystro, Flash Beats and Mike DaSilva make up the credits.
Content heavy lyrics, infectious hooks and big time production tie into the story-line of Welcome 2 My World, New York hip hop at its finest with reflection, aggression and slick talk. The second half of the album transitions to a smooth, vibrant experience.
Malachi Grant (formerly Merksmilez) is a hip hop artist with depth, walking the border of story-telling and feel-good music. His high energy music takes the listener through feelings in life all listeners can relate to. His content range is an open canvas delivered with a stylishly-fresh sound, unique to Malachi.
His musical influences read like a who's who of 80s and 90s hip-hop that includes LL Cool J, Big L (RIP), Rakim, that late great Biggie, Mase, Tupac and Nas. These influences are heard loud and clear throughout his album.