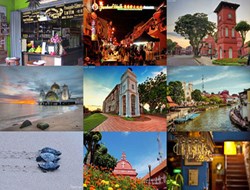 To help first-time visitors to Malacca to immerse in its charming culture and history without spending a single cent, we've came up with a list of top 10 things to do in Malacca
Singapore (PRWEB) January 09, 2014
Malacca, being one of the two UNESCO World Heritage Sites in Malaysia, has long been a popular destination for visitors to Malaysia. Besides tourists arriving via Kuala Lumpur, many visitors also come from Singapore by express buses, tour coaches and private cars. In terms of countries of origin, China came up top followed by Singapore, Indonesia, Taiwan and Hong Kong based on the numbers released by the State Tourism Department in June 2012.
Many of the historical sights and cultural attractions can be covered in less than 3 days at a leisurely pace. For those who are really in a hurry, a 2D1N itinerary would let them visit most of the important places such as the historical district, Jonker Walk and the Portuguese Village.
"To help first-time visitors to Malacca to immerse in its charming culture and history without spending a single cent, we've came up with a list of top 10 things to do in Malacca," said Lim Phing Phing, owner of the express bus travel website, MyExpressBus.com. "These activities are perfect for both FITs and families on self-drive vacation."
Here is a roundup of the 10 free things to do in Malacca:
1. Visit to Malacca's Historic Districts
2. Stroll along the Malacca River
3. Climb up Bukit St. Paul
4. Visit to Portuguese Village
5. Visit Padang Kemunting Sea Turtle Sanctuary
6. Go Temple Hopping
7. Visit Jonker Walk Night Market
8. Watch Sunset at Malacca Straits Mosque
9. Visit Bukit China
10. Watch Malacca go by from a road-side cafe
To find out more information on the ten things to do for free in Malacca, please visit http://www.myexpressbus.com/free-things-to-do-in-malacca.html.
About MyExpressBus.com:
Established in 2004, http://www.myexpressbus.com has been the leading travel guide providing reliable and up-to-date information on express bus services operating between Singapore and popular destinations such as Malacca, Genting Highlands, Kuala Lumpur and Penang in Malaysia.