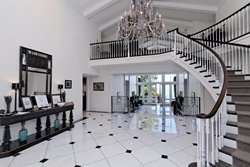 From Crisis To Solutions offers all who have experienced crisis in their lives, especially families and the effects crisis has on the whole, an opportunity for growth and change in an informative group setting
Malibu, California (PRWEB) March 11, 2014
Mike Ferguson is the Founder and CEO of Ferguson BHC. He is an interventionist who is bringing his expertise to Avalon Malibu treatment center in Malibu, California March 20, 2014 from 6:30m - 9:00pm. Mr. Ferguson will be discussing "Moving Families from Crisis to Solution".
Mike Ferguson is the leader of an independent behavioral health consult­ing firm. He is also a member of the National Association of Addiction Treatment Providers as well as the National Association of Therapeutic Schools and Programs, and the Association for Experiential Education. Mr. Ferguson and his team are proficient in directing families and their loved ones to appropriate programs based on each family's specific needs.
Mr. Ferguson will be facilitating the discussion that involves an advanced approach to recovery and healing. Some situations which will be addressed are the effects of post-traumatic stress disorder, anxiety, depression and addiction on the family, and how to move from crisis to solution in order to avoid negative outcomes and repercussions.
The short and long term effects when addressed can be dissipated, and recovery can take place in an expedient and progressive way with a lessening of negative side effects. "From Crisis To Solutions" offers all who have experienced crisis in their lives, especially families and the effects crisis has on the whole, an opportunity for growth and change in an informative group setting.
Hors d'oeuvres will be served. RSVP to Beata Lundeen at 310.457. 9111 ext. 102 or email beata(at)avalonmalibu(dot)com.
Avalon Malibu offers a new paradigm in treatment philosophy, by integrating recovery and healing. The 'Avalon Malibu Sanctuary Model' provides adults the opportunity for reflection through introspection, education and mindfulness practice. Avalon Malibu integrates mind, body and spirit into a realistic plan for long-term recovery from problems associated with substance use disorders, psychiatric disorders, and the co-occurring psychological problems that often accompany them. Avalon Malibu is a place where respect, safety, compassion, and hospitality are extended to all who seek health and healing.
Learn more by visiting http://avalonmalibu.com