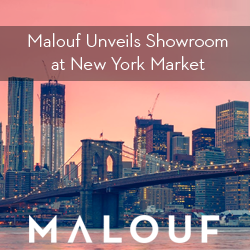 Because the space is so interactive, we have the opportunity to move or mix-and-match products and show the potential of Malouf products inside a retail store.
SALT LAKE CITY (PRWEB) March 19, 2015
Malouf plans to send ripples across the New York Home Fashions Market next week as it debuts its new Fifth Avenue showroom space complete with the latest design trends encouraging positive experiences and stronger collaboration. Focusing on minimalism, openness and a light, fresh feel, the showroom is expected to attract attention.
Utilizing minimalistic design principles, the showroom maximizes negative space to highlight Malouf's selected products. A central objective of the new showroom was to make everything visible and open. While others cram as much as possible, Malouf opts for openness, believing negative space is a breeding ground for positive results.
"The main goal of our new showroom was to create a comfortable experience through light, openness and visibility," said Cade Galloway, executive sales director at Malouf. "It's a struggle to visit a showroom that covers every square inch with product. It's literally uncomfortable because you don't know where to look or where to stand, let alone finding a place to sit and talk. We took great thought to ensure the new showroom felt spacious and engaging."
Unlike other markets, the New York Home Fashions Market demands more interaction and collaboration; Malouf delivered on that assumption through its product displays and practical luxury furniture.
"We enhanced product lines by making them more interactive so anyone visiting could handle and feel the technology behind each product," said Galloway. "Because the space is so interactive, we have the opportunity to move or mix-and-match products and show the potential of Malouf products inside a retail store. Our furniture selection is also highly utilized and matches well with our brand promise of attainable luxury."
Last year, Malouf occupied its first permanent space in New York. The new space, however, offers more natural light, is in a higher traffic location and provides more space to allow for better collaboration. One unique addition in particular makes Malouf's partner meetings more comfortable and functional: seating and table space by Camerich.
In addition to unveiling a new showroom, Malouf is introducing their two newest textiles, Tencel and Portuguese Flannel sheets, at the market.
The Tencel sheets lead a growing trend of soft fibers that derive from eco-friendly resources. Part of an award-winning closed loop process, Tencel is made of raw botanical wood pulp and spun to create an incredibly smooth hand with unique temperature and moisture management qualities.
Malouf's Portuguese Flannel sheets are crafted in Portuguese mills from 100 percent cotton and woven into a velvety-soft and breathable 190-gram fabric. The sheets are uniquely packaged in elegant matching flannel bags, giving consumers easy access to the tactile finish and color of the sheets within.
Malouf shows regularly at their New York showroom—located at 230 Fifth Avenue, Suite 1312—each winter and summer and will next be showing at their permanent spaces in High Point, Tupelo and Las Vegas, among other temporary spaces. To schedule a meeting with Malouf in the new showroom, call (435) 535-6676 or email cade(at)maloufsleep(dot)com.
ABOUT MALOUF
Malouf has been innovating, manufacturing, and importing quality bedding products for over 11 years. Malouf's product lines include Z pillows, WOVEN linens, STRUCTURES frames, SLEEP TITE protectors, and ISOLUS toppers. This comprehensive offering provides retail partners with the tools needed to enhance every mattress sale. Malouf now owns over one million square feet of warehousing space between the East and West Coasts, allowing for streamlined shipping logistics and faster transit times. For more information about Malouf, visit http://www.maloufsleep.com.