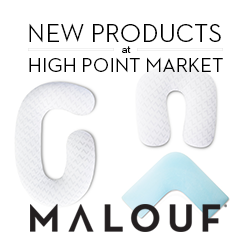 Customizing sleep is a big trend right now, and these new body pillows offer a variety of uses to make sleep more comfortable.
LOGAN, Utah (PRWEB) April 17, 2015
Set to debut at the upcoming High Point market, Malouf will enhance their robust Z pillow lineup with a trio of new body pillows to complement the growing trend of customized sleep solutions. Malouf currently carries more than 200 pillow varieties.
The body pillows feature an ergonomic design that follow the natural contours of the body to help relieve sleeping pains. The shape of each pillow provides comfort for anyone wanting additional body support and are particularly useful for women in need of maternity relief. Each of the new body pillows include a removable bamboo velour cover for easy laundering.
"We're very excited to officially release our new body pillows at High Point Market," said Sam Malouf, the chief executive officer of Malouf. "We don't believe in creating one thing for everyone; nor do we rely on clever marketing to convince two very different people that they'll be comfortable sleeping on something designed for someone else. Customizing sleep is a big trend right now, and these new body pillows offer a variety of uses to make sleep more comfortable."
The largest of the new pillows, the Wrap-around, is shaped like the letter C and filled with an ultra-soft, hypoallergenic down-alternative fill. The versatile shape envelops the whole body, aligning the hips and creating soft support under the head, neck, back and belly. It takes the place of up to six standard pillows.
About half the size of the Wrap-around, the Horseshoe pillow's U-shape design envelops both sides of the body and has the same down-alternative fill. Used under the head, the pillow supports the neck and back. Alternatively, when used under the legs, it helps to align the hips and cradle the belly.
Lastly, the L-shaped Boomerang pillow is made of Malouf's Gel Dough memory foam and provides support for the head, neck and shoulders to offer comfort for multiple position sleepers. The Gel Dough formula creates a cooler, softer memory foam to help eliminate sleeping pains.
In addition to the body pillows, Malouf will also release its first bed skirt. Created in classic French form, it features boxed corners and a matelassé stitch to create a quilted appearance.
Malouf will also showcase several other products that were released earlier this year but are making a first appearance at High Point. The highly acclaimed Tencel sheets, which played a center-stage role in Malouf's Las Vegas showroom, offers a smooth hand and regulates humidity and temperature. Malouf will also show its Shredded Gel and Cotton Encased Down Blend pillows.
Malouf's showroom at High Point Market is located at IHFC Main Street, Suite M633. They will next be showing at their permanent spaces in Tupelo, Las Vegas and New York among other temporary spaces.
ABOUT MALOUF
Malouf has been innovating, manufacturing, and importing quality bedding products for over 12 years. Malouf's product lines include Z pillows, WOVEN linens, STRUCTURES frames, SLEEP TITE protectors, and ISOLUS toppers. This comprehensive offering provides retail partners with the tools needed to enhance every mattress sale. Malouf now owns over one million square feet of warehousing space between the east and west coasts, allowing for streamlined shipping logistics and faster transit times. For more information about Malouf, visit http://www.maloufsleep.com.