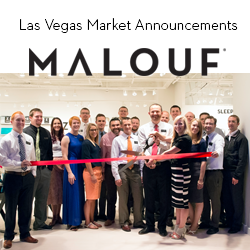 We recognize the strong appeal of our packaging, but there's also a wow factor when you touch Malouf products for the first time.
Logan, UT (PRWEB) August 07, 2014
The Las Vegas Furniture Market brought big things for Malouf as it pulled the curtains on its newly expanded showroom, unveiling three new pillows, a cutting-edge website complete with a wholesale resource center and its recent partnership with LUNG FORCE, an American Lung Association initiative for women's lung health.
The newly expanded showroom in C-1540 gave customers an opportunity to interact with Malouf products in a literal way. Malouf's popular Z pillow line was displayed without its packaging to encourage customers to feel the materials of the pillows; in particular the exclusive variations of Dough memory foam. The showroom also featured Malouf's ISOLUS mattress toppers, tools demonstrating the breathability and liquid-proof abilities of SLEEP TITE protectors, and a sheet display allowing visitors to feel the materials offered in the WOVEN line.
"We recognize the strong appeal of our packaging, but there's also a wow factor when you touch Malouf products for the first time," says Shauna Spencer, the lead interior designer at Malouf. "As a result, a major goal of our new showroom design was to help those visiting to visualize the Malouf experience in a tangible way. By creating a hands-on environment, our showroom visitors literally feel the quality and comfort of the materials that make our products what they are."
A new lounge area was also added to the showroom. Hors d'oeuvres and specialty drinks were created by the company's corporate chef, adding to the relaxing atmosphere Malouf created for attendees. After cutting the ribbon on their new showroom, Malouf had a handful of other announcements saved for the Las Vegas event.
To enhance their existing Z pillow line, Malouf debuted three new pillows; the Zoned Dough + Calming Lavender, Zoned Dough + Bamboo Charcoal and the Zoned Gel Dough. Each pillow offers new variations to their Zoned and Dough technologies to create the perfect combination of comfort, support and airflow. The Zoned Dough + Calming Lavender is infused with real lavender for a natural aromatherapy experience. The Zoned Dough + Bamboo Charcoal is infused with bamboo charcoal to regulate humidity, temperature and odors. Lastly, the Zoned Gel Dough combines their Gel Dough formula with zoning technology to create a cooler, softer and more supportive memory foam.
Known for their design skill and technical abilities, Malouf unveiled a completely overhauled website including a cutting-edge wholesale resource center. The two-fold website focuses on defining the brand with stunning imagery, an intuitive design and compelling content. A second objective of the site gives wholesalers a place to login and easily access the content they need to order and sell Malouf products.
Speaking about the wholesale resource center, Malouf's marketing director, David Anderson, said, "We want to give our retail partners as many opportunities to succeed as possible. Now they can easily place and track orders, view their order history and access exclusive downloads. In the future, we're hoping the resource center can be an all-encompassing education system that will include training videos."
Finally, Malouf further defined its purpose to provide healthy products by partnering with LUNG FORCE, a newly launched initiative led by the American Lung Association to unite women across the nation to stand together for lung health.
A natural fit with the goals of LUNG FORCE, Malouf has been on the forefront of developing sleep products that prevent and subdue lung conditions. Their bed protectors are lab certified to eliminate dust mites and allergens that lead to asthma attacks and can lead to the development of asthma in kids.
"Working with LUNG FORCE was an easy decision," said Mike Douglas, the general manager at Malouf. "After experiencing the positive lung health benefits of our bed protectors, they approached us to join the initiative as part of our joint commitment to healthy living. There's a great need to educate Americans about reducing health risks from asthma to lung cancer and more; LUNG FORCE does precisely that. We're excited to work as a team in this cause."
Malouf shows at the Las Vegas Market in July and January and will next be showing at their permanent spaces in Tupelo, New York City and High Point.
ABOUT MALOUF
Malouf has been innovating, manufacturing, and importing quality bedding products for over 11 years. Malouf's comprehensive product lines include Z Pillows, WOVEN Linens, STRUCTURES Frames, SLEEP TITE Protectors, and ISOLUS Toppers. This comprehensive offering provides retail partners with the tools needed to enhance every mattress sale. Malouf now owns over 500,000 sq. feet of warehousing space between the east and west coasts, allowing for streamlined shipping logistics and faster transit times. For more information about Malouf, visit http://www.maloufsleep.com.