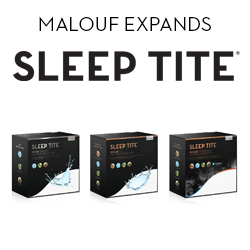 LOGAN, Utah (PRWEB) August 12, 2015
Expanding the range of its SLEEP TITE product family, Malouf released three new mattress protectors that present more options for its retailer partners to create customized sleep solutions. Malouf's mattress protector product line has been one of its most popular and includes its best selling product, the Pr1me Cotton Terry protector, which helped get Malouf on the map.
"We've carried Malouf's mattress protectors for a long time and always had very good attachment rates, but we're expecting even better results because now there's a protector for every budget," said Trent Ranburger, owner of Trent Bedding in Bowling Green, Ky. "We work hard to find the right mattress for everyone who comes into our store; that same goal goes into helping them choose the right protector. Having more options ensures a happy, returning customer who gets exactly what fits their need."
The new protectors come integrated with several protective technologies making them liquid proof, breathable, quiet and cool. The staple 15-year warranty, which extends to the mattress it covers when purchased together, instills confidence that everything beneath the sheets stays clean.
The first of Malouf's expansion, Pr1me Smooth, complements the earlier mentioned Pr1me protector but features a smooth top surface. It remains backed by the laboratory certified H2Pro membrane that blocks liquids, allergens and dust mites. It fits a mattress up to 22 inches securely with the Universal Fit fitted sheet style elastic.
At a high value, the Encase LT brings complete encasement protection against bed bugs, liquids, allergens and dust mites. A three-sided zipper eliminates the passage of bed bugs and securely fits a mattress up to 14 inches.
Lastly, Malouf also extended the upper-end of the SLEEP TITE family.
Featuring four protected technologies, the Encase Omniphase is the crème de la crème of mattress protectors. Moisture wicking Tencel fabric with Omniphase phase change technology absorbs and releases heat to truly create a comfortable sleep climate in hot or cold conditions. The patented encasement protector completely blocks bed bugs with a 360° Micro Tite zipper, also allowing easy removal. The lab-certified H2Pro membrane completely blocks liquids while the Universal Fit fitted sheet style elastic ensures a secure fit for mattresses up to 22 inches.
"The three new protectors follow our mission to provide personalized, luxurious sleep solutions at an attainable price point," said Sam Malouf, CEO of Malouf. "The new Pr1me and Encase LT bed protectors bring premium level features at competitive level pricing. The Encase Omniphase marries the benefits of all our other protectors but remains very affordable."
Malouf's new product offerings made an impact during the market; it again hit records for the number of people who visited its Las Vegas showroom. Its high-end gift, a travel Shredded Gel Dough pillow, and in-house chef prepared food certainly played a role too. Malouf reported more than 2,500 travel Shredded Gel Dough pillows were given to its visitors during the four days of market.
ABOUT MALOUF
Malouf has been innovating, manufacturing, and importing quality bedding products for over 12 years. Malouf's product lines include Z pillows, WOVEN linens, STRUCTURES frames, SLEEP TITE protectors, and ISOLUS toppers. This comprehensive offering provides retail partners with the tools needed to enhance every mattress sale. Malouf now owns over one million square feet of warehousing space between the east and west coasts, allowing for streamlined shipping logistics and faster transit times. For more information about Malouf, visit http://www.maloufsleep.com.