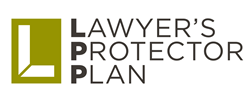 Tampa, FL (PRWEB) July 30, 2014
In partnership with an 'A' rated carrier, LPP offers lawyer and law firm clients an insurance program that provides professional liability coverage and risk management services. Understanding the importance of informing clients about the inherent risks and exposures that they may face when conducting business, Lawyers Protector Plan has developed a comprehensive risk management program to help lawyer and law firm policyholders make informed decisions to mitigate risks and exposures which could lead to a malpractice claim.
LPP insureds have access to the following benefits and services:

Online Continuing Legal Education programs for each lawyer in the firm available 24 hours a day
Access to the Hinshaw & Culbertson Toll-Free Risk Management Hotline
Access to the most comprehensive Risk Management Website
Cutting Edge law firm practice management Newsletters emailed directly to insured law firms
Discounts off certain products and services provided by Lorman® Education Services
An in-house claims department led by former practicing attorneys
LPP's new website will provide valuable online resources and information about liability and business insurance lines for attorneys and law firms, as well as customized risk management resources, continuing education programs and valuable industry specific news.
About Lawyer's Protector Plan
Lawyer's Protector Plan® (LPP®) program is designed for small to mid-sized law firms. The LPP program has specialized in providing professional liability insurance to lawyers since 1983 and currently serves over 7000 lawyers engaged in the private practice of law. LPP performs multiple services on behalf of an exclusive insurance carrier partner including underwriting, marketing, website hosting, distribution management, policy issuance, risk management and claims handling.
The program can be accessed through retail insurance agents in Alabama, Arizona, Arkansas, California, Colorado, Connecticut, Delaware, Florida, Georgia, Idaho, Illinois, Indiana, Iowa, Kansas, Kentucky, Maine, Maryland, Massachusetts, Michigan, Minnesota, Mississippi, Missouri, Montana, Nebraska, Nevada, New Hampshire, New Jersey, New Mexico, New York, North Carolina, North Dakota, Ohio, Oklahoma, Pennsylvania, Rhode Island, South Carolina, South Dakota, Tennessee, Texas, Utah, Vermont, Virginia, Washington, Wisconsin, and the District of Columbia.
LPP® is a division of B&B Protector Plans Inc., which is a wholly-owned subsidiary of Brown & Brown, Inc. ("Brown & Brown"), a publicly held insurance intermediary whose stock is traded on the New York Stock Exchange, Inc. Brown & Brown is ranked as the seventh largest insurance intermediary in the United States by Business Insurance magazine.