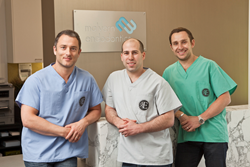 Utilising the latest technology enables new levels of diagnosis, therapy and most importantly - better outcomes.
Cheltenham, VA (PRWEB) April 22, 2014
Melbourne Bayside residents now have the opportunity to receive specialist endodontic care by the team at Malvern Endodontics, who have decided to extend their reach by opening a new practice, Bayside Endodontics, in Cheltenham.
Malvern Endodontics and Bayside Endodontics provide specialised dental treatment focused on saving their clients' natural teeth. Endodontic procedures (Root Canal) include conventional root canal dental treatment, dental trauma management, internal bleaching, pain diagnosis/management and more advanced services such as microsurgery and regenerative procedures in children's teeth to grow back the original nerve and vessels inside the root canal itself (for example, stem cell procedures).
Bayside Endodontics was founded by Dr Mark Weis and Dr Daniel Bierenkrant as a joint venture outside Malvern Endodontics. As Dr Weis explains "Our team of specialist endodontists and nurses are here to provide patients with the utmost care as well as unrivalled, professional and personalised service".
Both practices have newly renovated premises with specialist nursing staff who are dedicated to providing the highest level of care in a comfortable and relaxed environment. Dr Bierenkrant adds "We have new equipment and technology at both Practices to provide the best and most cutting edge service in the industry. Utilising the latest technology enables new levels of diagnosis, therapy and most importantly - better outcomes."
In addition to the highest level of endodontic care & cutting edge technology, both practices provide efficient online reporting and patient handover. The locations have friendly reception staff who are always happy to help, from a patient's first enquiry, to any questions that may arise during treatment and any after care needs. There is also provision for immediate appointments for emergencies, and their team always endeavour to meet patients' appointment needs.
Dr Mark Weis, Dr Daniel Bierenkrant and Dr Ilya Belobrov are specialist Endodontists with an additional three years of Post Graduate Degrees from the University of Melbourne. Their endodontists are heavily involved in the dental industry, holding regular lectures and demonstrating at institutions including the University of Melbourne and La Trobe University. For more information on their qualifications and specific resumes please visit their website at malvernendo.com.au.
To enquire or book an appointment, with or without a referral, contact either Malvern Endodontics on 03 9509 7913 or Bayside Endodontics on 03 9016 3318 today. You may also enquire online at http://www.malvernendo.com.au/contact/.
About Malvern Endodontics
Malvern Endodontics, based in Armadale, Victoria, specialise in endodontic procedures including root canal therapy, dental trauma management, and other endodontic related microsurgery. Founded in 2006 by Dr Mark Weis, they have a newly renovated practice and the latest equipment which promises their clients the very best in endodontic treatment available.