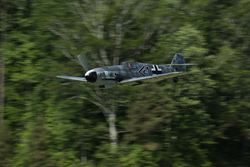 Virginia Beach, VA (PRWEB) May 20, 2016
The Military Aviation Museum held the maiden flight of its restored Messerschmitt Bf 109 earlier today, Friday, May 20th, in preparation of the aircraft's participation in the Warbirds Over the Beach air show. This marks the aircraft's first flight over North American soil.
The restoration of this living piece of World War Two history began in 2004, when Meier Motors Company of Eschbach, Germany was contacted by museum. Painstaking effort was made to ensure the authenticity of the aircraft. A major stepping stone in this project was obtaining a genuine Daimler-Benz DB 605 engine, which came from a German Bf-110 that was retained by Switzerland after making an emergency landing at Dubendorf airport in 1944.
Through the contributions of many, the Bf 109 finally arrived at the Military Aviation Museum in October of 2015. Upon its arrival, the team of mechanics at The Fighter Factory pieced the aircraft back together and it remained on static display until getting approved for flight by the Federal Aviation Administration.
Watch this rare warbird in action at the Warbirds Over the Beach air show, May 21-22. Additional event information can be found at http://www.VBAirshow.com.
About the Military Aviation Museum:
A 501 ©(3) not-for-profit organization, the Military Aviation Museum is home to one of the world's largest collections of First and Second World War, and Korean War era fighters, bombers and trainers. Each airframe has undergone painstaking restoration, using original components, whenever possible. Truly a living museum, aircraft are in restoration at facilities around the world. Besides the main Museum, the Virginia Beach complex features additional structures, including the 1934 Luftwaffe Hangar, originally from Cottbus, Germany, which now serves to house the Museum's collection of WWII-vintage German aircraft. Additional hangar spaces include the WWI Hangar, in which resides the Museum's genuine 1918 Curtiss JN-4D "Jenny", besides other aircraft of the period. Visit MilitaryAviationMuseum.org for more information or call 757-721-7767.