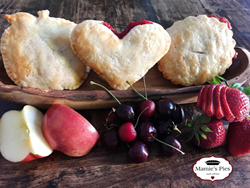 San Rafael, CA (PRWEB) July 06, 2017
It's been a delicious journey from an high school fundraiser to making the August "O List" in Oprah's O Magazine for Kara Romanik, Founder and Owner of Mamie's Pies, unbaked, hand-held "pocket pies" that bring homemade goodness to individual consumers. Elegantly shaped and sold frozen, Mamie's Pies are the only products of their kind on the market today.
The O List is Oprah's monthly list of her "Favorite Things" around a theme, and Mamie's pocket pies will be featured in the August "Food" list. Mamie's pocket pies are available in apple, cherry, and strawberry year-round, and pumpkin in the Fall. All are made using Kara's family recipes that hail from her New England roots.
"Being recognized by Oprah is not just an honor for me but for my entire family," Kara said. "We've remained true to generations-old recipes with fresh, wholesome ingredients, and a little grandmotherly love."
The company started when Kara learned that her daughter's school dance was about to be canceled due to a lack of funds. "We'll sell Mamie's pies," Kara said, referring to her mother, whose family recipes Kara had been baking all her life. Her hope was to sell a few apple pies. She sent samples to the school and was inundated with orders for 120 pies.
"I couldn't bake 120 pies in my oven, so I talked a local grocer into keeping them in his freezer," Kara said. "This way I didn't have to use preservatives, and customers could bake them at home."
A business was born, with pies made from McIntosh apples grown in New England, where Kara's extended family still lives. After a few years of selling traditional 9-inch pies through grocers, Kara realized that the market for full-sized pies was limited to holidays and special occasions. Seeing few alternatives on the market, she tweaked grandma's recipes to make frozen, single-serving, hand-held versions of the 9-inch pies with the same fresh fruit and homemade crust. Enter Pocket Pies, Oprah's food pick of the summer!
"All of our pies are made with fresh New England fruit, and we moved production to Maine to be closer to the source," Kara said. "It's farm to table with a stop in the freezer."
About Mamie's Pies
Mamie's New England pies and pocket pies are unbaked, frozen and preservative free. Just simply pop them in the oven directly from the freezer and enjoy a little taste of New England.
Each pie is an individual serving of big homemade taste. Mamie's pies come in apple, strawberry, cherry and pumpkin - a perfect treat for any occasion. For more information, to order pies or to find a retailer visit http://www.mamiespies.com.
###
Contact
Amy Lee
Alaniz Marketing
415-892-5252
amy(at)alanizmarketing(dot)com