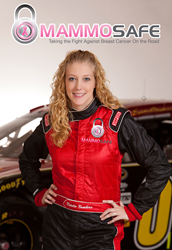 For each race that is fully funded, 10 underserved women will be given mammograms for free.
HOUSTON, TX (PRWEB) April 22, 2014
In an effort to raise awareness for Breast Cancer AND actually help fight the disease, Mammosafe and Kristin Bumbera have teamed up in a crowdfunding campaign at http://www.MammosafeRacing.com to raise money to provide life-saving mammograms for women who have no insurance coverage and cannot afford the examination. For each race that is fully funded, 10 underserved women will be given mammograms for free.
"I'm honored to represent Mammosafe and its efforts to fight Breast Cancer, and will do my best to win this race for all those affected by breast cancer—patients and their loved ones," says Kristin Bumbera. Learn more about Kristin at http://www.kristinbumbera.com.
In keeping with Mammosafe's slogan,"Taking the Fight Against Breast Cancer On the Road," Dr. Daniel R. Roubein is thrilled to extend his campaign to the racetrack by sponsoring a woman whose own family has been affected by breast cancer. Dr. Roubein is Mammosafe's founder and is a board certified radiologist with a long history of serving the breast health needs of Texas. "Mammosafe is excited to be part of the Race Against Breast Cancer with Kristin Bumbera, and my hope is that we continue to raise the funds necessary to help detect this disease in its earliest and most treatable stages," says Dr. Roubein.
Mammosafe is the only mobile screening mammography coach in the nation with a radiologist on board. Dr. Roubein is present, in a separate room, monitoring the exams as they are being done by Mammosafe's experienced female mammography technologist. Dr. Roubein then actually meets personally with each patient to discuss the results of her exam before she leaves the coach. Mammosafe Mobile Coach One is a brand new, luxurious, 39 foot vehicle designed with the utmost in patient privacy, safety and comfort in mind. It sports the most sophisticated full field digital mammography and computer aided detection system available. It runs as a completely independent mobile breast imaging center. See more at http://www.mammosafe.com.
This partnership was brokered by Holly Chervnsik of Stinger Sports Marketing whose clients are among the biggest names in auto racing, including A.J. Foyt Racing and 2012 NHRA Top Fuel Champion, Antron Brown. Visit http://www.stingersports.com for details.