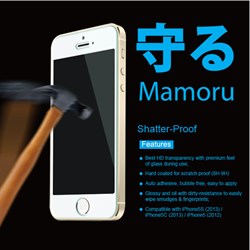 Mamoru (守る) - to protect and defend something, to ensure that something is safe.
Hong Kong (PRWEB) December 01, 2013
Mugen Power (http://mugen.co) - manufacturer of premium quality accessories for smartphones, today announces new line of Tempered Glass Screen Protectors - Mamoru Shield.
Mamoru (守る) - to protect and defend something, to ensure that something is safe.
Mamoru Shield is made of real glass and provides ultimate protection for Your screen ensuring it is scratch-free and clean while maintaining whole functionality of the phone and touchscreen. That is ensured by following characteristics:
Exceptional Transparency: made with chemically treated premium quality transparent tempered glass Mamoru Shield offers full clarity of the image on your screen.
9H Surface Hardness: Mamoru Shield is 3 times harder than PET Film, protecting your screen effectively even from sharp objects like knives.
Oleophobic Coating: protects from fingerprints and makes it easier to clean.
Delicate Touch: Mamoru Shield retains original sensitivity of the touch screens.
Silicone Layer: makes Mamoru Shield easy to install and remove from Your Smartphone.
Mamoru Shield is available for iPhone 4/4S, iPhone 5/5S/5C, Galaxy S4, Galaxy Note 2 and Galaxy Note 3 at http://mugen.co/mamoru-shield-premium-tempered-glass-screen-protector.html.
List price of Mamoru Shield is $29.95 and now it is available for $19.95 as Cyber Monday Deal.
About Mugen Power
Mugen Power is the worldwide leading brand of premium quality smartphone accessories and high performance batteries for portable electronic devices. Mugen Power means Performance and Quality and delivers a full spectrum of high quality products for PDAs, smartphones, digital cameras, camcorders, MP3 players, portable DVD players, notebooks, UMPCs and Personal Media Devices.
All Mugen Power products also undergo vigorous QA procedure, resulting in Mugen Power achieving the lowest return rate in the market.
NOTE FOR EDITORS: Mamoru Shield is available on request to editors of computer magazines and bloggers who wish to write a review of the battery.
# # #