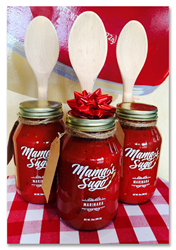 Mama's Sugo hand-crafted marinara sauce will raise funds to support charitable medical services at Shriners Hospital in St. Louis.
St. Louis, Mo (PRWEB) May 05, 2016
Mama's Sugo (http://www.mamassugo.com/), a new hand-crafted marinara, was quietly launched this Mother's Day Week in upscale retail foodie locations Straub's (http://www.straubs.com/), Field's Foods (http://fieldsfoods.com/), and DiGregorio's Italian Market (http://www.digregoriofoods.com/) throughout St. Louis to commemorate Mother's Day and moms everywhere.
"Mama's Sugo is a natural extension of our 20-year history as one of St. Louis' best known pizzerias: Vito's Pizzeria (http://vitosstl.com/) in the famed St. Louis Theatre District," says Pizzaiolo and Sauce Master Vito La Fata. "Every spring, my mother, Caterina Maltese, would sift through local markets and friends gardens to find the best all natural ingredients she could amass. Then, she would begin hand-crafting the marinara using a process that has gone back several generations to our Sicilian roots. As kids, we would secretly spirit away a few jars to use as a dipping sauce for bread and then as the main course sauce for a full meal with our families as adults."
"It wasn't until a year ago that I wondered if this 'best kept family secret' had a life outside of the La Fata kitchen on the shelves of fine grocers. Mama and I sat down one rainy Saturday afternoon and walked through the process step-by-step. We peeled fresh tomatoes, added my grandmother's mysterious mix of seasonings and then the proper heat index and simmering time to allow everything to blend to perfection. We then took a full year to test and sample the various blends to identify what could consistently be produced in larger quantities without sacrificing the sauce's legendary taste," said La Fata.
Upstart Food Brands (http://upstartfoodbrands.com/) helped capture the brand's essence in a logo that depicts a mother's hand holding a wooden spoon for La Fata. The logo is a depiction of both the love and discipline that is historically interwoven throughout Italian culture and best exemplified by marinara stained hands wagging a wooden spoon. "Although my mother rarely used it as a source of discipline, the idea that it might be a consequence for wrong behavior kept kids like my brothers and myself on a much straighter and narrower path than most of our peers," said La Fata.
"Launching the product Mother's Day 2016 was a fitting homage to the woman who raised us and simultaneously ran a small, fledgling business long before it was culturally fashionable or typical throughout US culture in the 1980s. As a Mother's Day Gift, Mama's Sugo will donate a significant portion of its profits to give back to the St. Louis Shriners (http://www.shrinershospitalsforchildren.org/Locations/stlouis), an organization that paid for my brother's then-unaffordable surgery when he was a child. We will continue to donate funds in perpetuity to not only repay the Shriner's generosity, but also to create a perennial, multi-million dollar philanthropic fund that will benefit disadvantaged, sick children nationwide," said La Fata.
Our goals are simple, "Honor Mama, Make Great Sauce And Give Families A Reason To Come Together Over A Great Meal."
About Mama's Sugo:
Mama's Sugo Authentic Sicilian Marinara Sauce is created by award-winning pizzaiolo Vito Lafata, owner of Vito's Sicilian Pizzeria & Ristorante in the famed St. Louis Theatre District in St. Louis, from a generations old, all natural, hand-crafted recipe.
Contact:
Vito La Fata III
Mama's Sugo
3515 Lindell Blvd., St. Louis, MO 63103
VitosSTL.com
Mobile 314-497-4189
vitospizzeriastl(at)gmail(dot)com
Patrick Tuttle
VidzMedia
4438078383
patrickmrm(at)gmail(dot)com