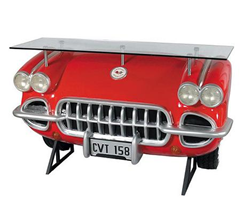 Man caves are one of the few rooms in the home where it's encouraged to can go all out with a theme design - starting with the bar.
(PRWEB) November 07, 2013
HomeThangs.com – the Online Home Improvement Store has made their goal to deliver the right product to the consumer. With that in mind, shopping and home design tips, as well as special product selections, are being introduced.
Man caves are one of the few rooms in the home where going all out with a theme is the norm rather than a taboo. Bars are often a main component of man caves, and an excellent place to begin expressing a bold theme. HomeThangs.com has introduced a guide to a few nice pieces to get the ball rolling.
For a car enthusiast or as part of a retro 1950s drive-in themed space, a bar modeled after the front end of a little red Corvette or bubblegum pink '57 Chevy is the perfect way to make a bold theme pop. Both playful and stylish, these are definitely a statement piece that can easily command an entire room. Plus, they're compact enough to work in a small space, but not so small as to be impractical to use.
Even just a little old world flair can go a long way toward establishing a bold theme. Man caves often feature lots of dark wood in deference to the gentleman's parlors and libraries, and a beautifully made wood bar is the perfect way to add a touch of masculinity to the space. Lighter wood with dark wood detailing can evoke an old West, saloon style feel to it that makes it feel both rugged and sophisticated, while ones with classic carving are perfect to match the glitz and glam of an old fashioned movie theater style.
A serious, dedicated bartender should look for a bar that has plenty of storage, even if it isn't particularly large. A wine rack might be nice in the kitchen, but in a man cave there should be enough space and equipment to really mix some drinks. The more organized the storage the better, as keeping wine and liquor bottles, stemware, mixing equipment, and ice all sorted can streamline the mixology, while having ample counter space makes it easy to whip up drinks for a crowd.
For smaller man caves that are limited on space, look for multipurpose bars with multiple interchangeable tops. That is, bars that have green felt tops designed for a rousing game of blackjack, roulette, or craps in addition to the wood bar top. These are essentially really high quality three-in-one game tables. During ordinary use, they have a sleek wood top, but quickly and easily swap to one of the three game surfaces, meaning the man cave can double as a private casino for a boys' night in.
Even with a relatively ordinary looking wood bar, there's still a whole world of opportunity to get creative with bar stools. Bar stools come in an absolutely spectacular variety of designs, far above and beyond the standard four legs and a cushion top, like stools that come with a saddle instead of a seat, or better yet, bar stools with sculptural bases. Man caves are meant to be fun spaces free from traditional housekeeping etiquette. So while shopping for new bar furniture – or really any piece of furniture – feel free to go a little wild and opt for bold statement pieces (or furniture that's just a little bit silly or showy).
For more ideas about how to decorate a man cave, check out the full article here.
HomeThangs.com is not only a home improvement superstore, it also provides expert design tips and a comprehensive shopping guide, taking the ideas from professional interior designers, and offering tips to the consumers on how to pick the products to best suit their needs.